This Thanksgiving day I'm thankful for many blessings: family, friends, neighbors, shelter, food, our siberian husky who lived 16 years, and many other things.  The weather was nice Thanksgiving morning so I was thankful to have an hour to run out to the field first thing to do some flying.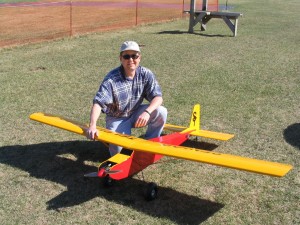 On Thursday, November 22 (Thanksgiving day) my Senior Telemaster past an interesting milestone: 12 cumulative hours of fully autonomous flight. This may not sound like a whole lot, but it represents 58 separate flights over the span of 3 years. In every flight it has performed beautifully and majestically and very scale like. It is not a fast aircraft, but it's solid, forgiving, and controllable even at very slow airspeeds. It has a lot of room, a lot of carrying capacity, and it's very tolerant of CG changes. I have flown it on calm days and I have flown it in up to 27 kt winds (31 mph) that were gusting to higher at times. With a set speed of 30 kts there have been times it has been blown backwards in flight! She has seen sun, clouds, fog, drizzle, and even rain. Winter, summer, spring, fall, hot days, cold days — she's seen just about everything. Through all of this it has been a solid, reliable, patient, unfailing work horse — and she's still going as strong as ever!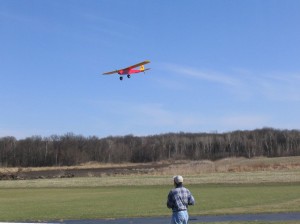 She has been a test bed for 4 major autopilot revisions:
An original gumstix :gumstix" processor + a Xbow MNAV sensor head.
A gumstix "verdex"+ a sparkfun 6DOFv4 IMU
A gumstix "verdex" + a VectorNav VN-100T temperature calibrated IMU
A gumstix "overo" + a 3D Robotics APM2.5 "sensor head"
I recall one close call where I made a code+hardware change and didn't check it thoroughly enough.  Transitioning to autonomous flight resulted in an immediate full throttle dive towards the earth.  I switched to manual mode (almost not quickly enough) and was able to manually recover from the dive just in the nick of time.  That is the only time I've put any serious flex on the wings!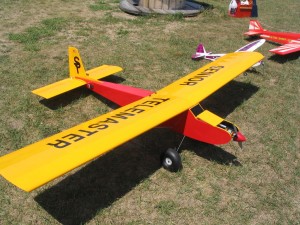 I recall one landing when the farmer's corn was 8′ tall and completely surrounding our little patch of flying field.  I typically had to come over the edge of the corn with inches to spare in order to get it down and stopped before the end of our flying field.  On this day we had crazy gusting cross winds and as I cleared the corn the wind just fell out from under the telemaster.  It dropped from maybe 10′ of altitude and came to a complete stop no more than 5′ from the approach edge of the corn.  That has to be my all time shorted landing with any aircraft (only counting landings on the wheels.) 🙂
So thanks to my trusty work horse for many good years of service with hopefully many more to come!
2012-11-24 13:35:53 -0600 - Written by curt