Sig Rascal 110 #1 – UMN UAV Project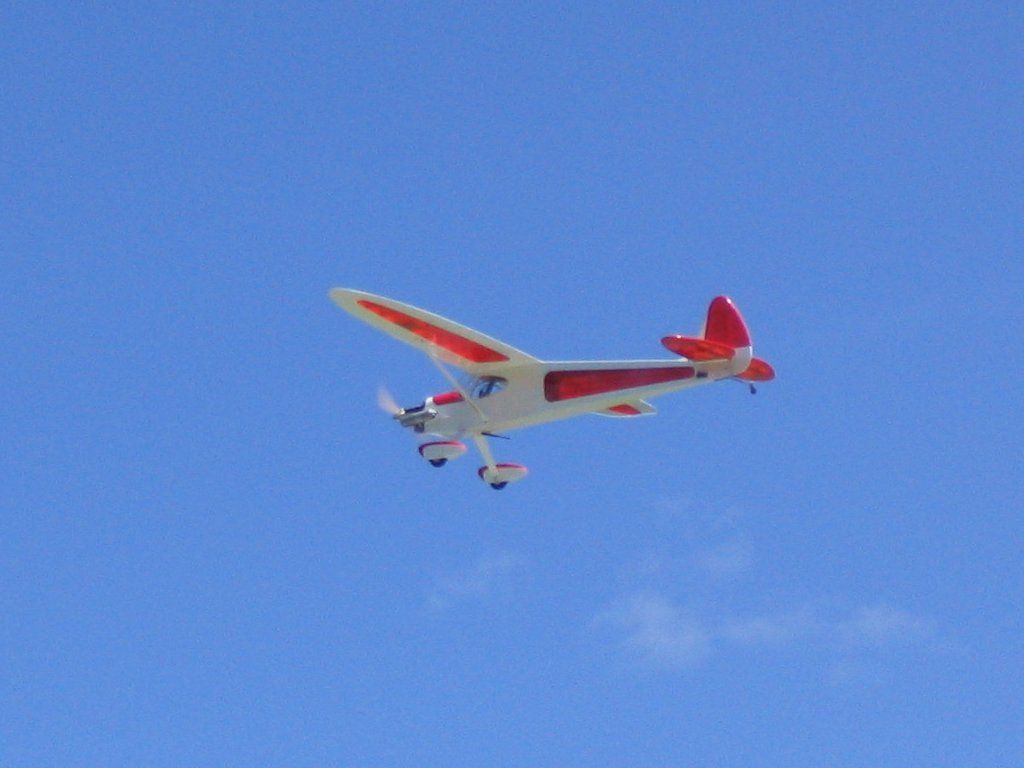 img_2659
Project started March, 2005.
I am involved with the University of Minnesota Aero Dept. on a UAV project. My part of the project involves assembling the airframe as well as being the chief test pilot.
June 7, 2005.
Today we flew the Rascal 110 on it's maiden flight! Winds were about 10-ish out of the SE, gusting to 15+. It was a bit on the windy side and the gusty cross wind was tricky, but we managed.
Posing at the start of the day …

img_2546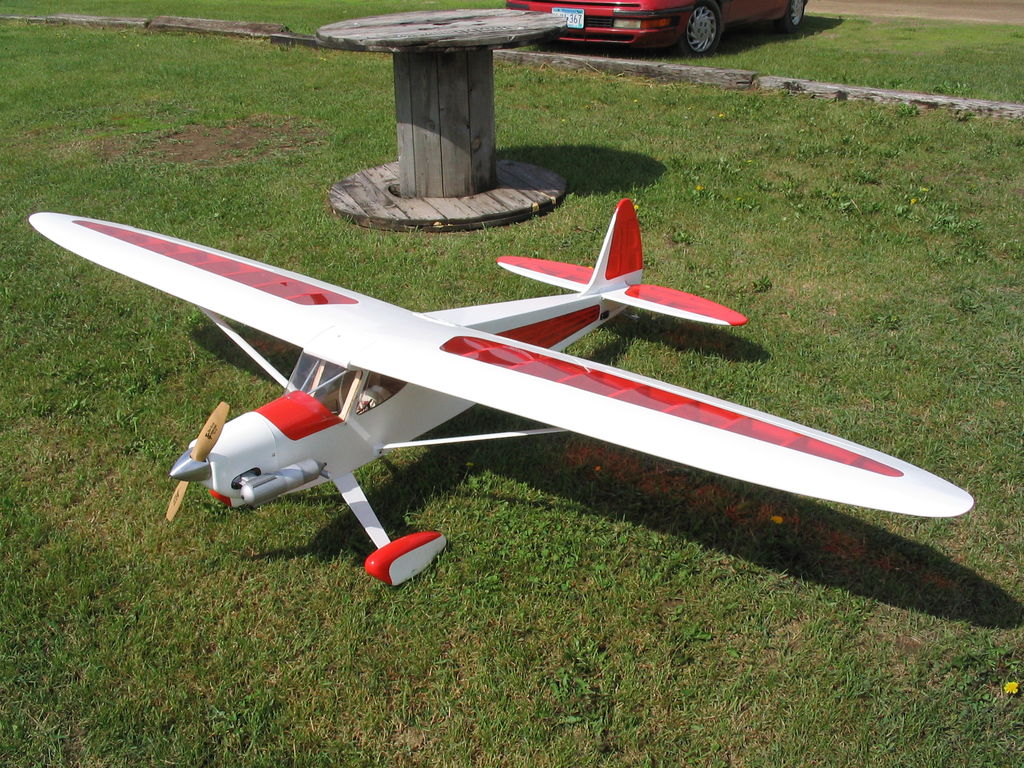 img_2547 Curt at the controls …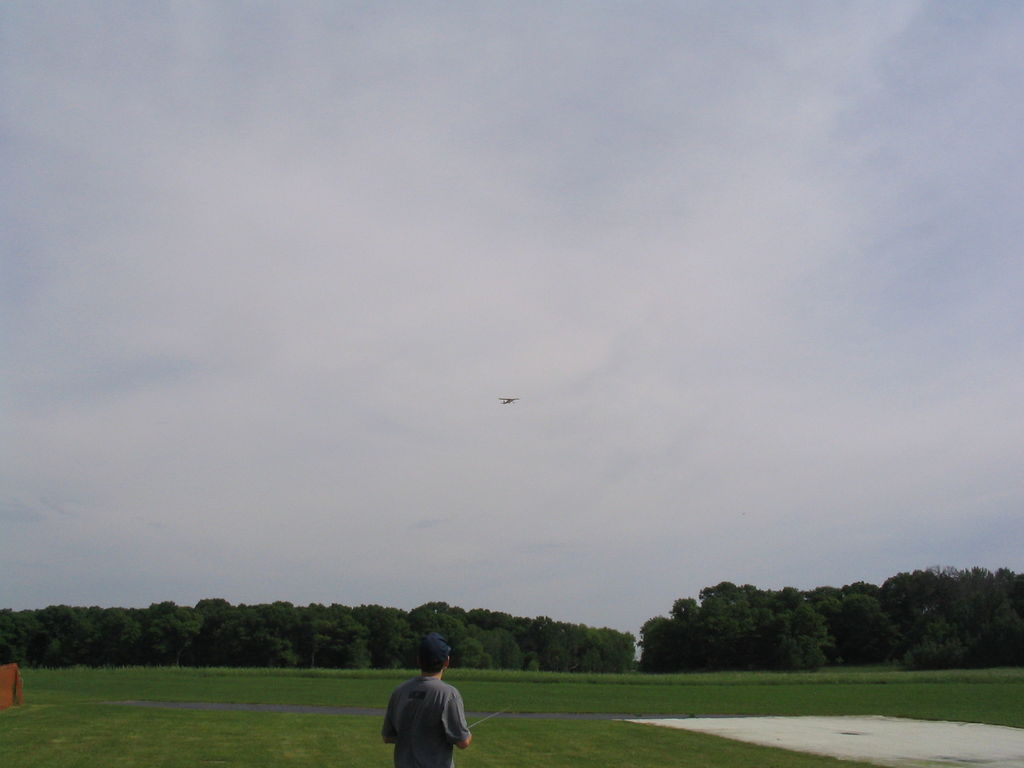 img_2548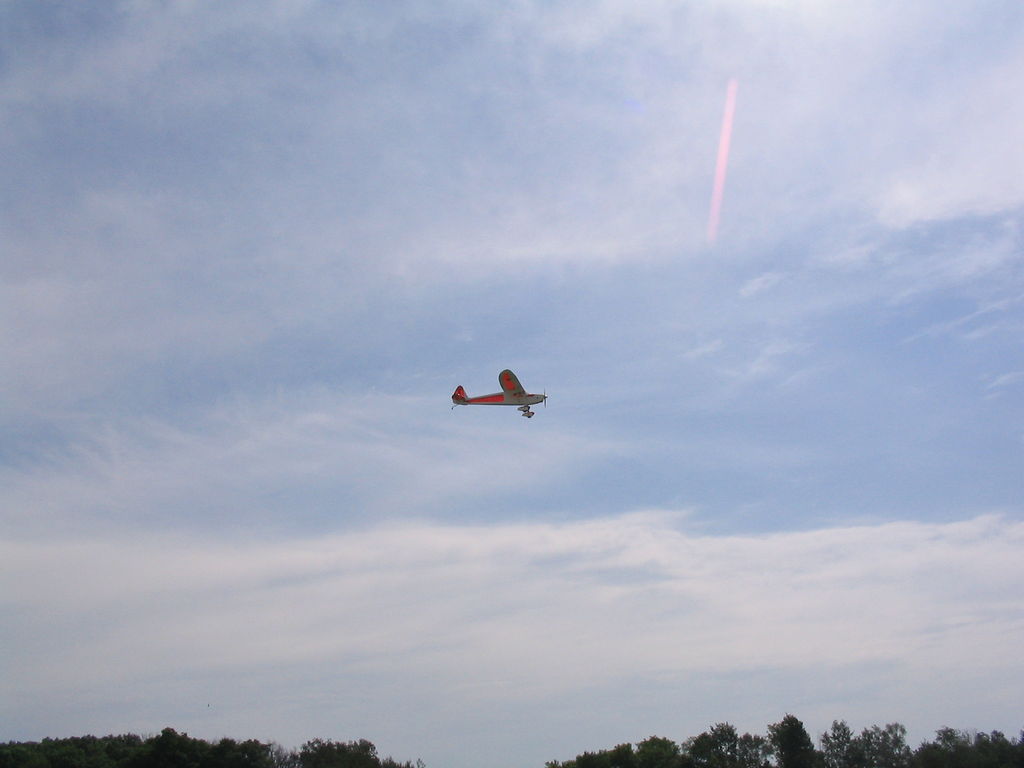 img_2549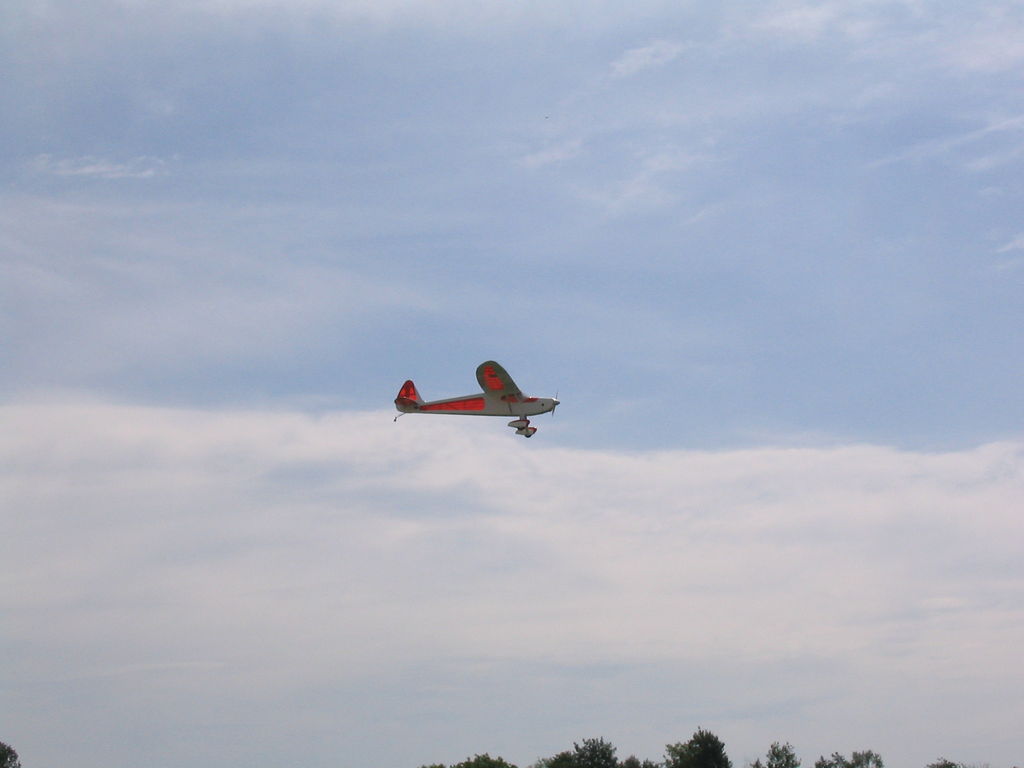 img_2551 Turning final …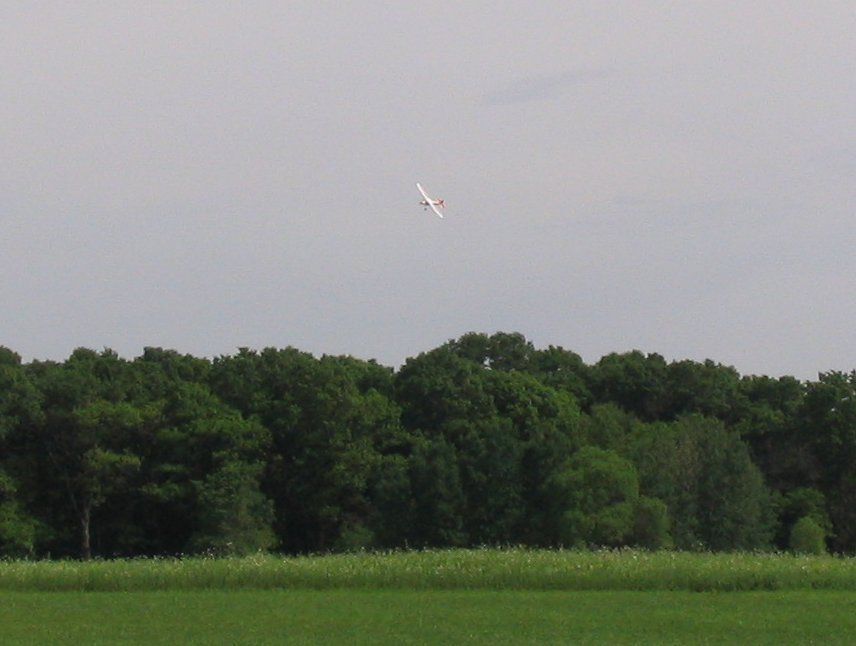 img_2550 Landing …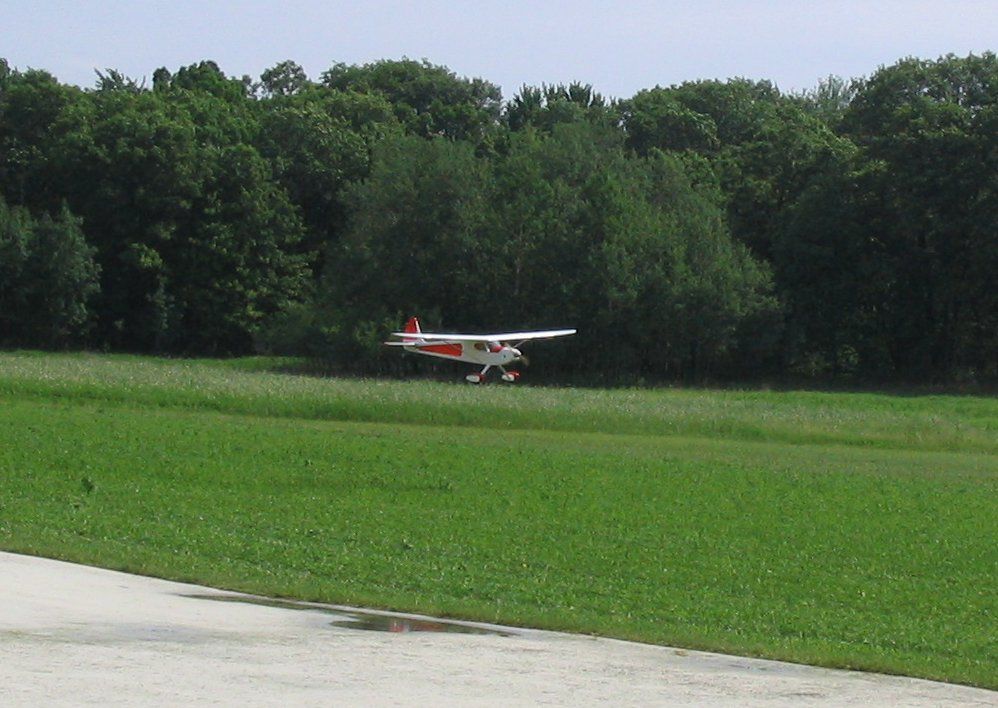 img_2552 Ready for another flight …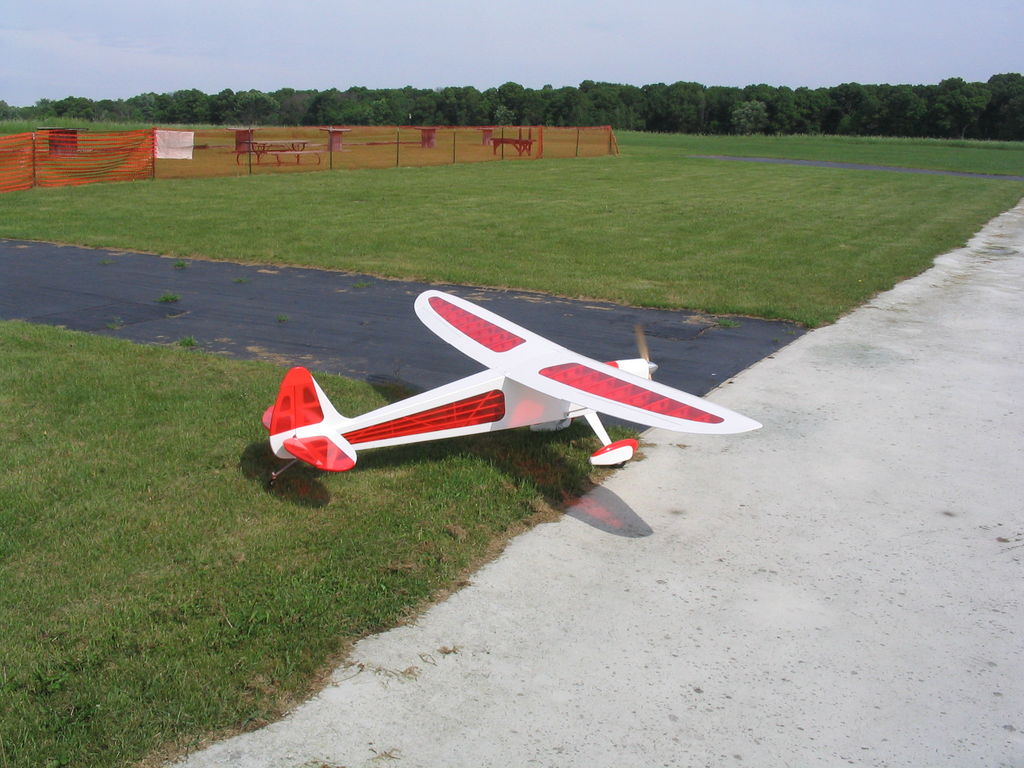 img_2553 Greg at the controls …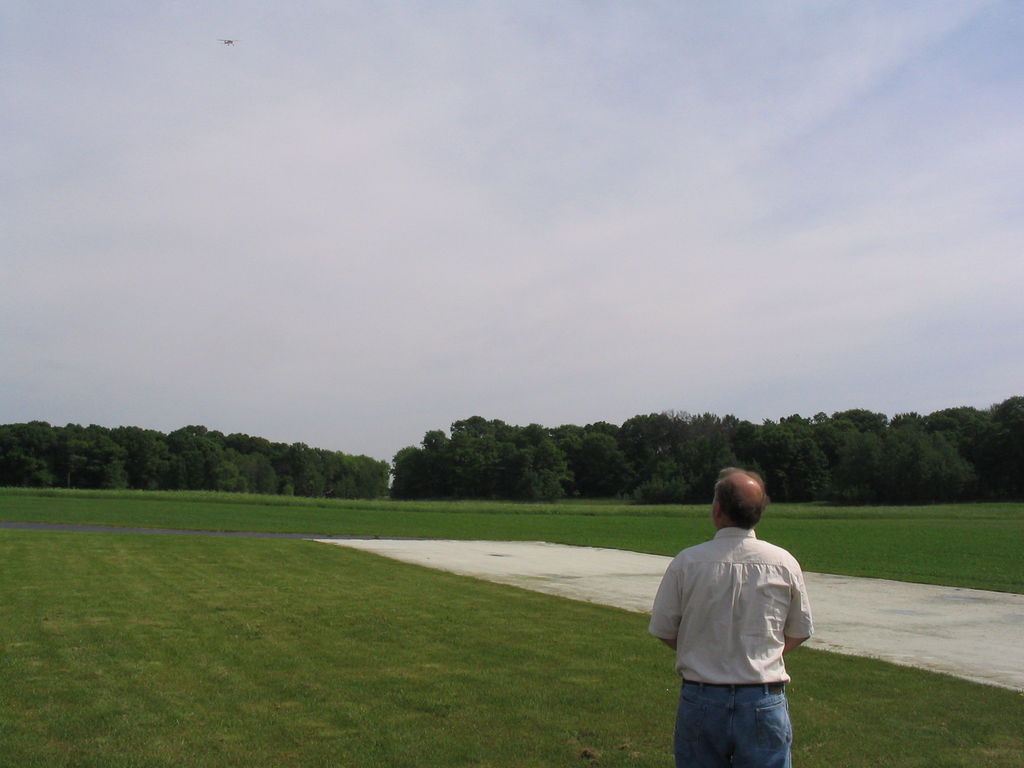 img_2559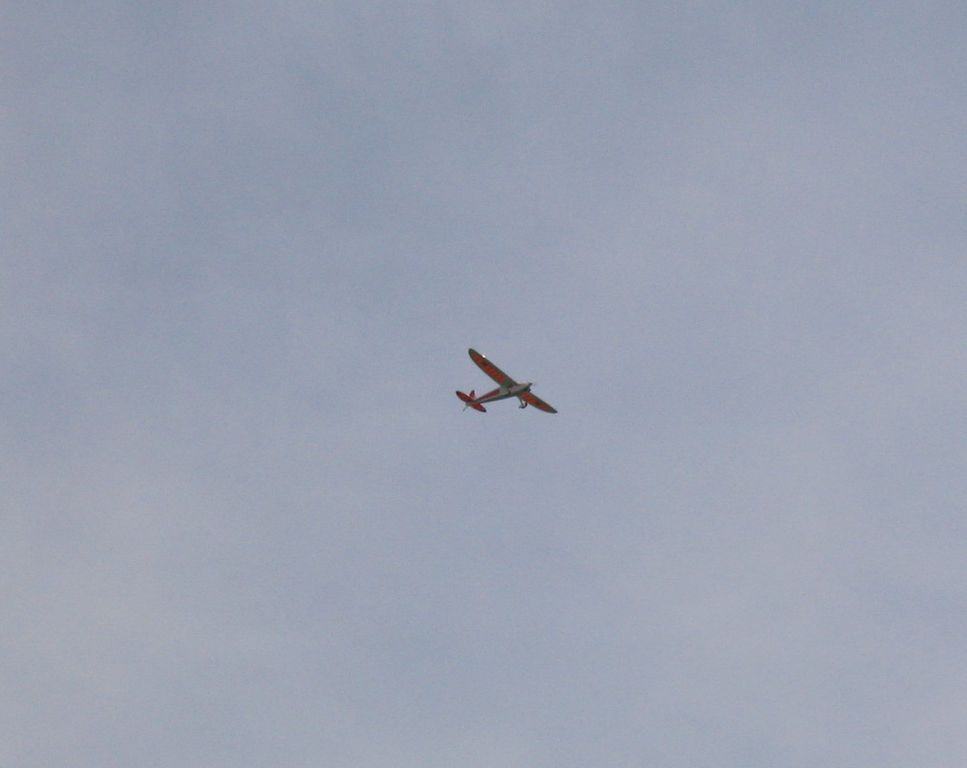 img_2554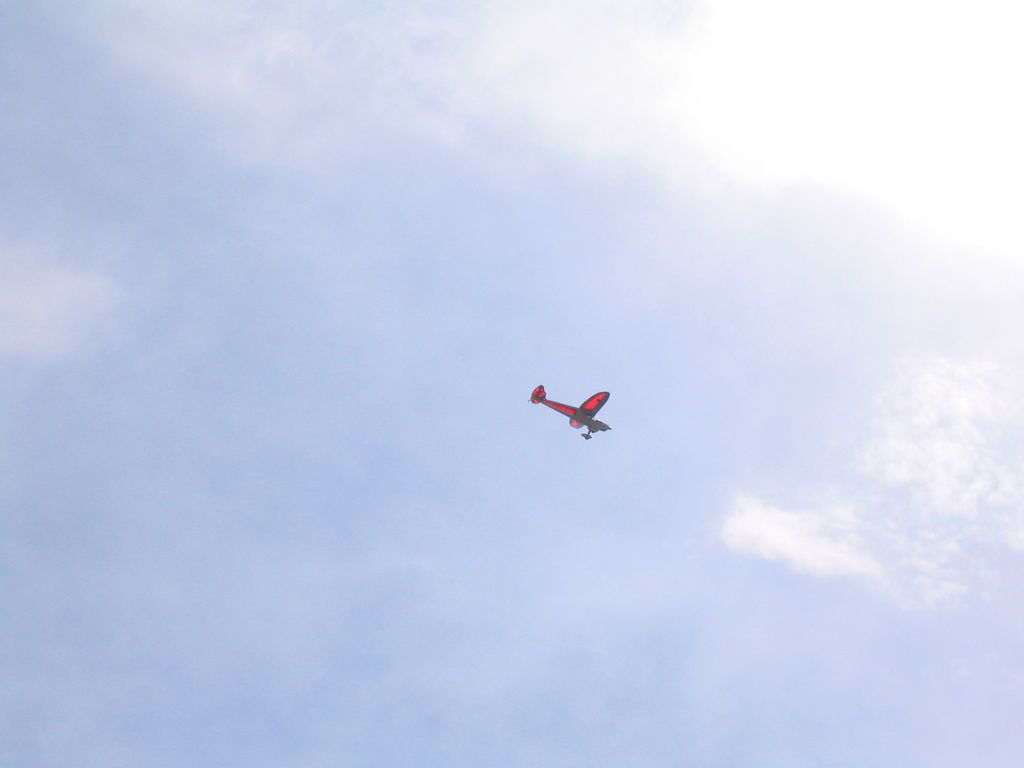 img_2555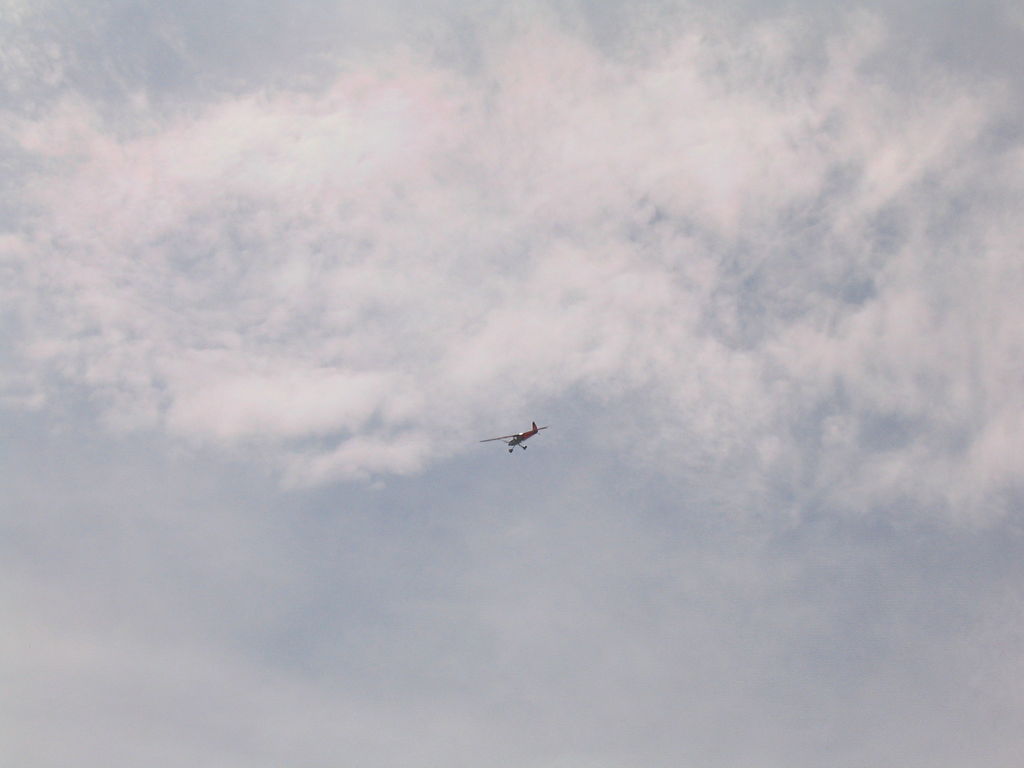 img_2556

img_2557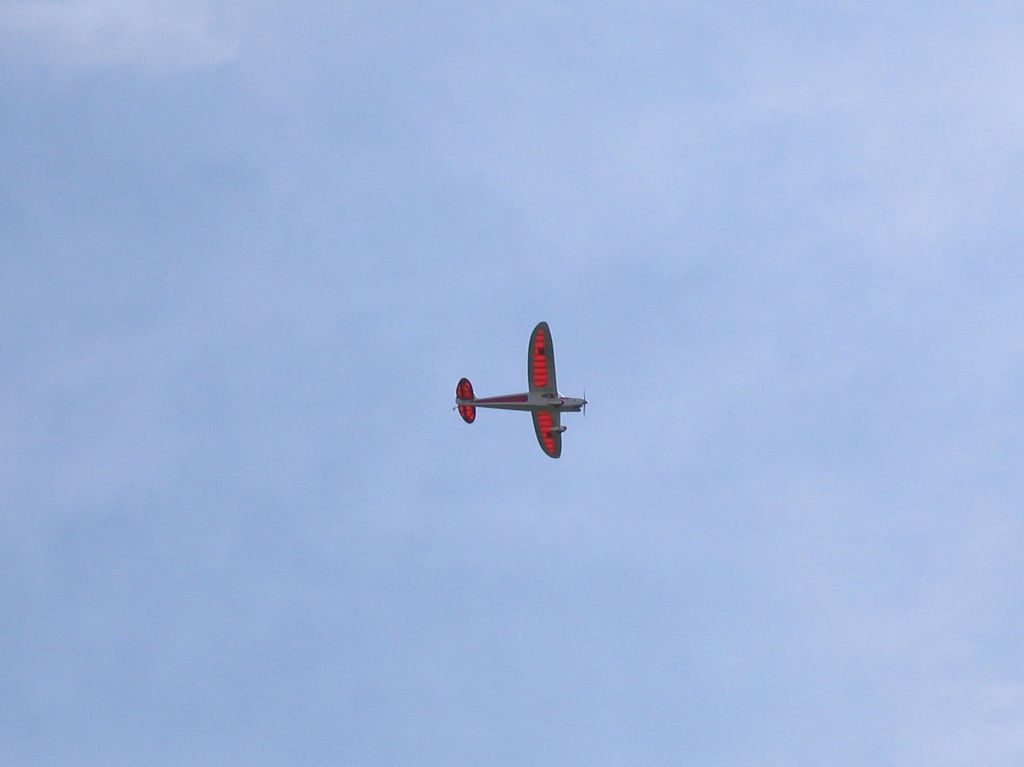 img_2560 Still in one piece at the end of the day … 🙂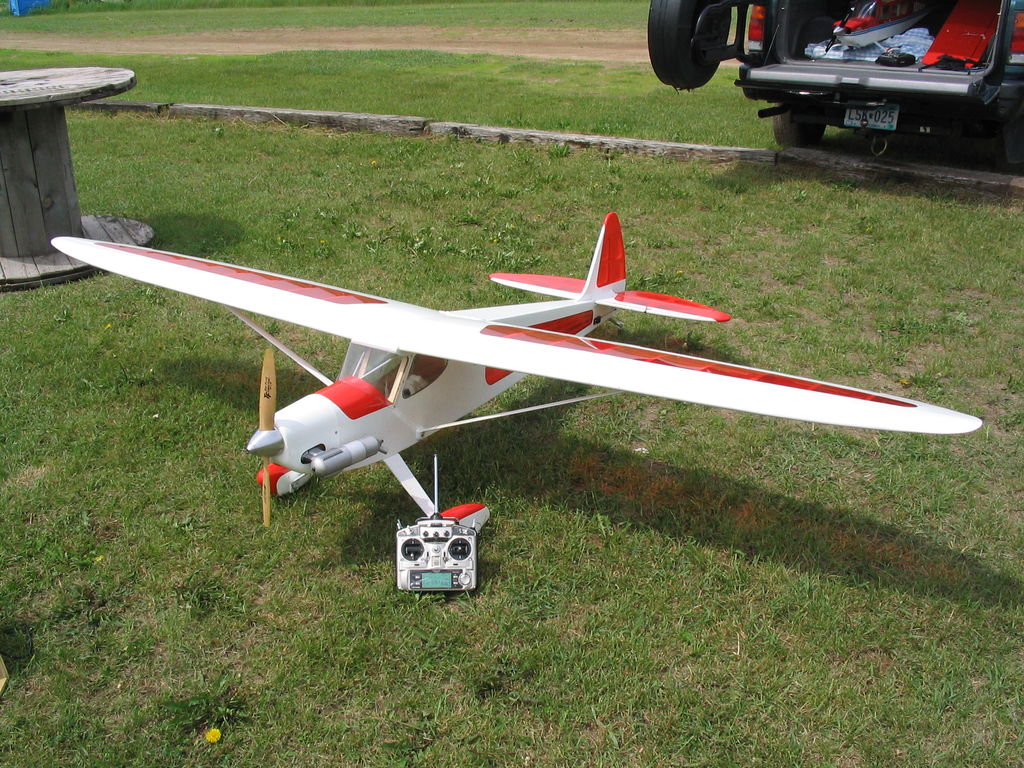 img_2561 The Rascal is a big beautiful flying airplane. It's a tremendous floater. Even at 1/4 throttle, the tail comes up quickly on the take off roll, and it's airborn soon after. We powered the Rascal with an OS 1.60 FX 2-stroke. That is plenty of power and she can sure fly with a lot less engine, but the airplane is big enough to handle all that extra power just fine. It will go unlimited vertical, but just barely. It was a bit tricky to handle in the gusty cross-wind, really wanting to weathervane into the wind, but I'm sure with some practice and more flight time I will get a better feel for how it handles on approach. It's a great flying aircraft and should be able to carry quite a load.
June 16, 2005.
Today I made two very short flights with the Rascal. Both ended early with the engine quiting. I safely dead sticked both times, but I wasn't in the mood to practice dead sticking today. I couldn't get the engine to run reliably, even after a fresh glow plug so I gave up for the day. I'm going to rip the cowl off and play with it at home to see if I can figure out what's going on. No clouds, barely any wind, temp in the mid-70's, other than engine proplems, it was a great day for flying. 🙁
The prop got damaged on the trailing edge midway between the center and the tip during the maiden flight, so today I was flying with a new prop. I went with an 18×8 (instead of the original 18×10) to try to get more "braking" action on landings to counteract it's tendency to float forever. I'll have to wait to get the engine running reliably again before I know how much this will help.
June 18, 2005.
Today I put in 3 really good flights. I yanked the cowl at home and ran a tank through in my front yard which I think cleared out the cobwebs. I think it was still a little tight from being so new and I was a bit off on my needle valve adjustment last Thursday. But today I had the engine running great. It pulls the Rascal through the air authoritatively and allows you to do *big* beautiful maneuvers. I probably ran 60+ oz of fuel through the engine today.
July 2, 2005.
Today we tested a simple telemetry system consisting of a Garmin Etrex GPS and an AeroComm radio modem. The aircraft flew great. The telemetry worked great. The GPS worked great and we got WAAS correction. Everything went pretty much as good or better than expected. From the data collected the max speed we hit with the Rascal 110 was 88.9 kts and I suspect that was with the wind which was running 5-10 kts at the surface. The Rascal can cruise comfortably at 25 kts and can lollygag and putter around at maybe 15-ish or even a little slower. But fire up the throttle and she get's up and goes.
Last minute tweaks and engine tuning before a flight.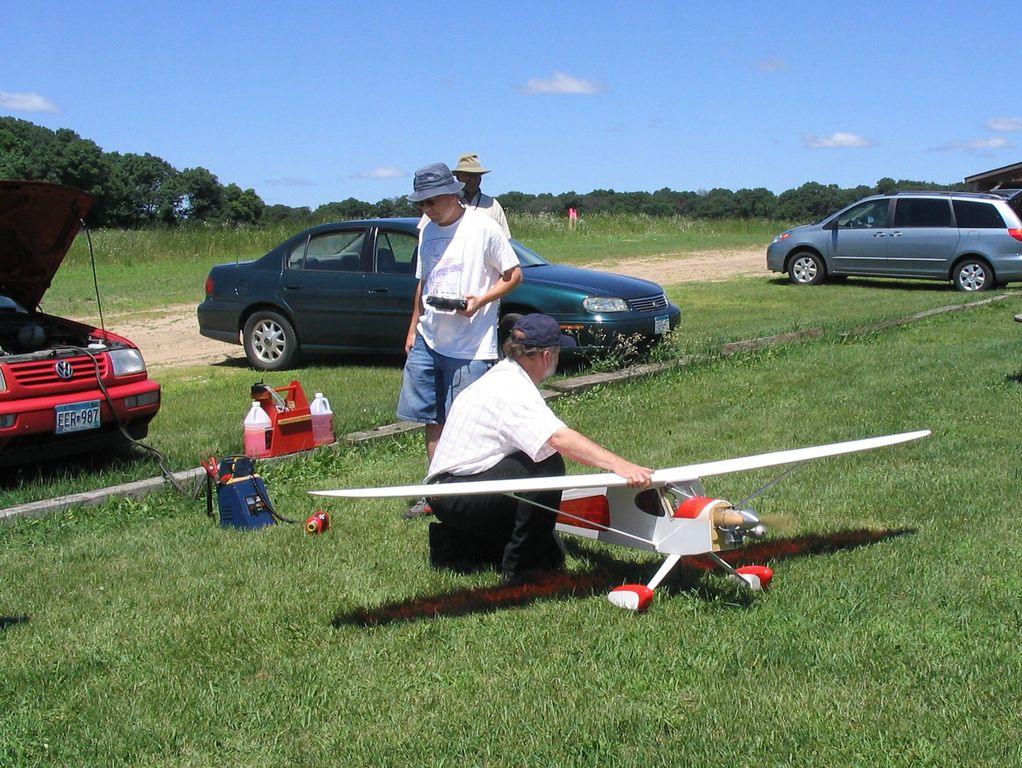 img_2657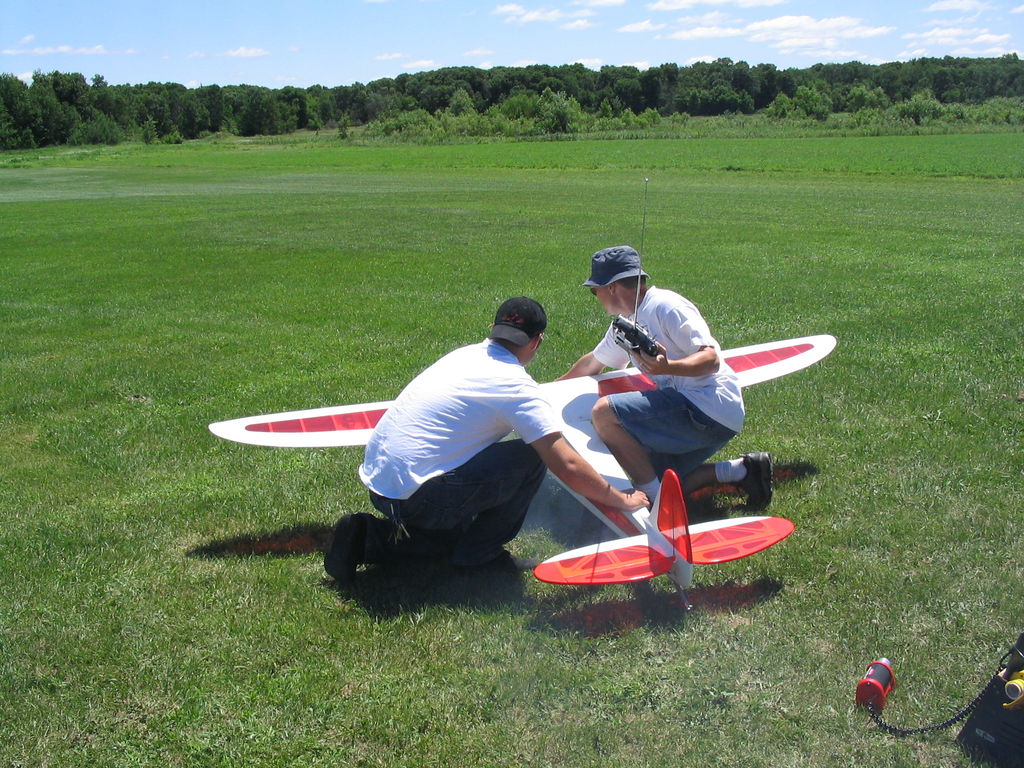 img_2658 Slow fly by and final approach.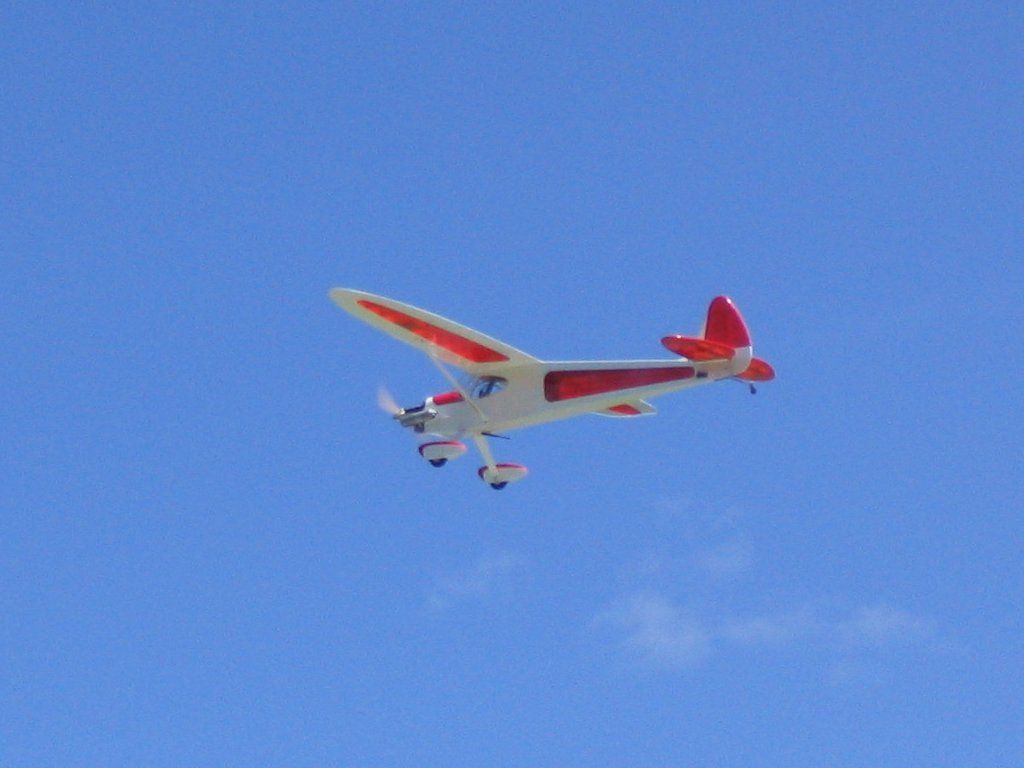 img_2659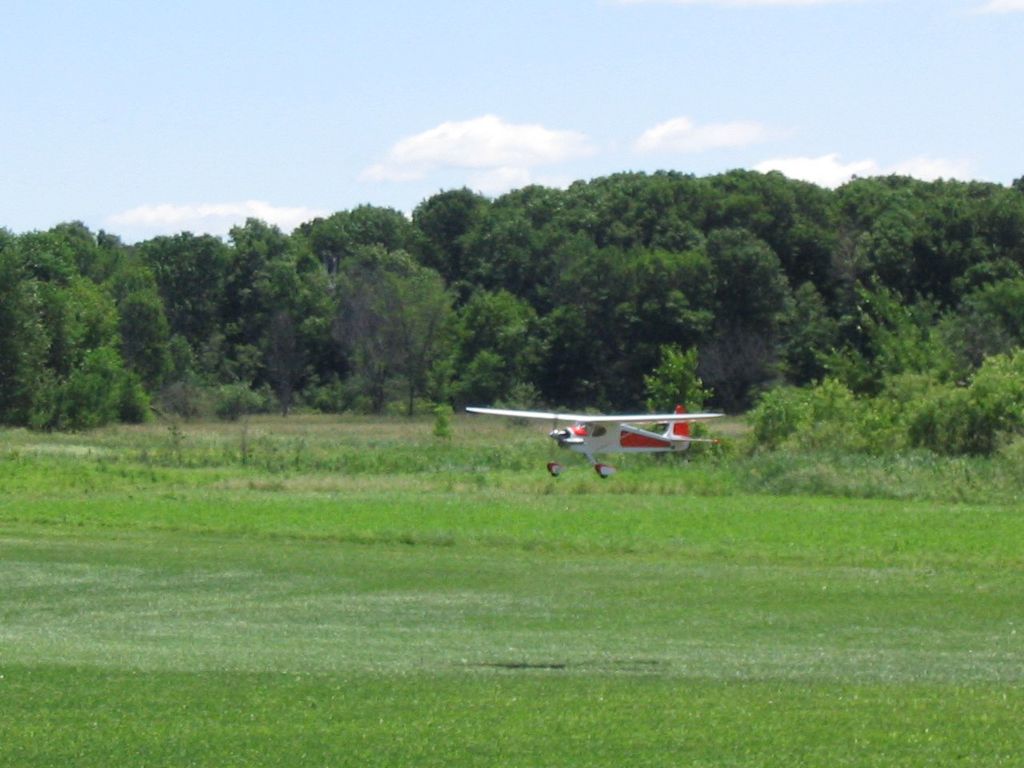 img_2660 I also hacked together a system to load in the gps track, interpolate/smooth the 0.5hz data to 60hz and fake roll/pitch, then blast the result to FlightGear via UDP packets. The result is a virtual replay of our flight and it turned out pretty reasonable for a linear interpolation. FlightGear provides a working virtual instrument panel (AI, ASI, Alt, DG, and VSI) as well as a working HUD and a 3D sythetic world view.
These are virtual views from the flight playback. Notice the working instruments in the virtual cockpit view. Oh, and it's flight gear so I tuned in a nearby VOR station. 🙂 If we recorded control inputs we could animate yoke, pedals, and control surfaces in FlightGear as well.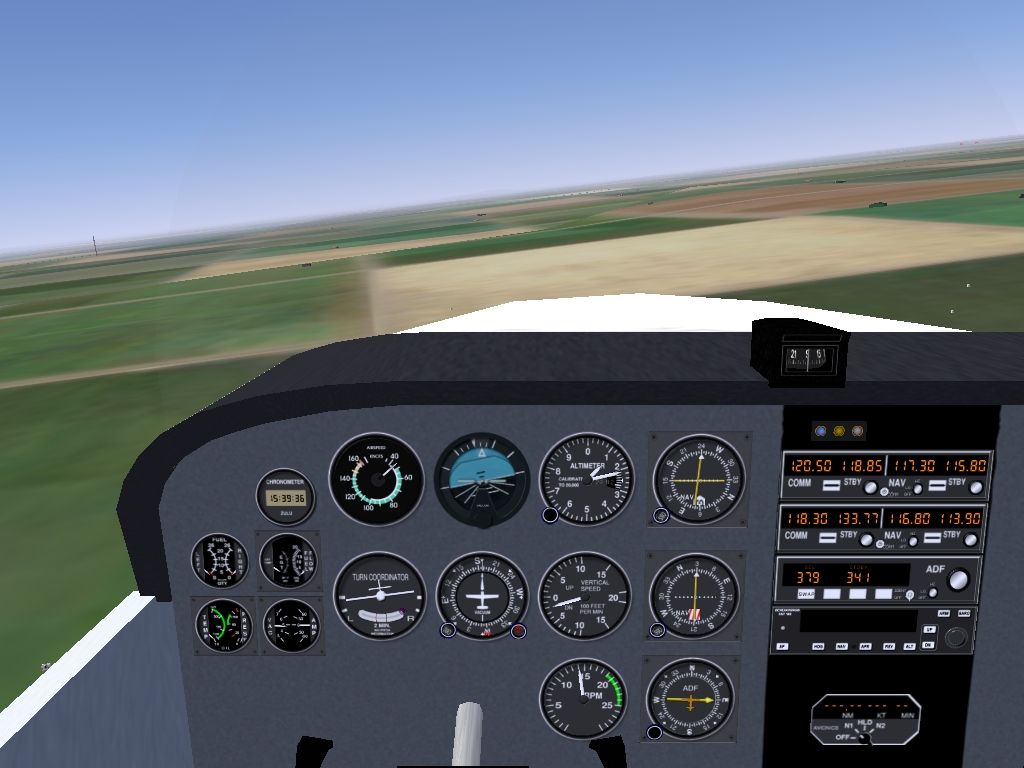 Virtual-UAV-01 We can also do external chase views and include a HUD if we like.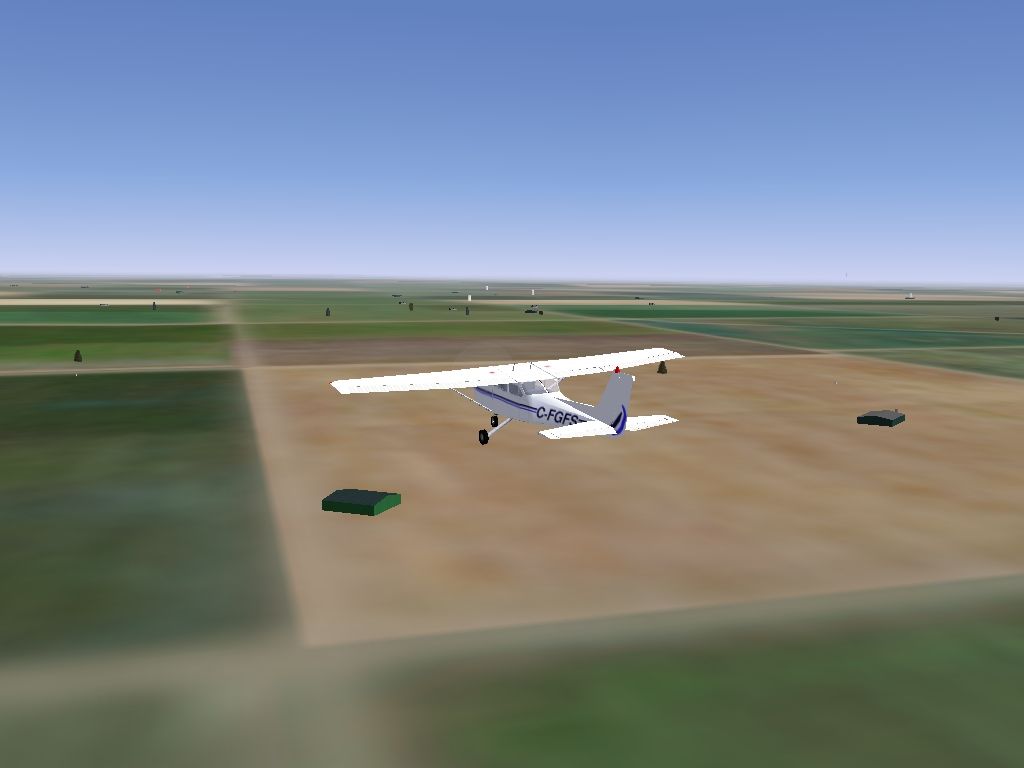 Virtual-UAV-02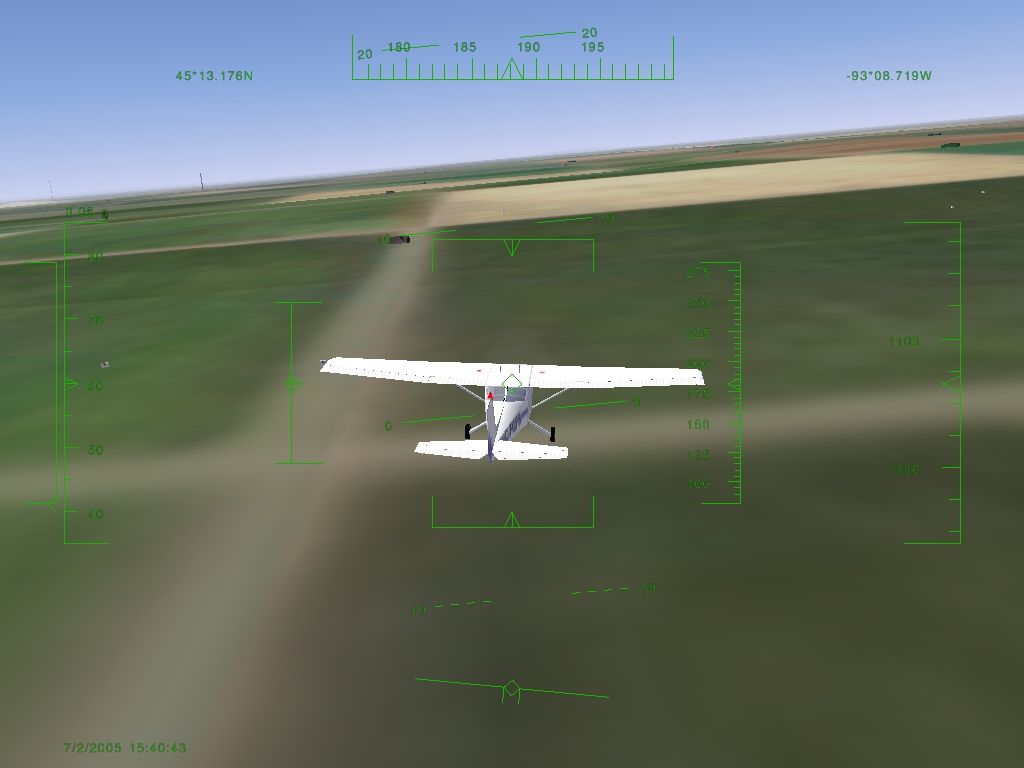 Virtual-UAV-03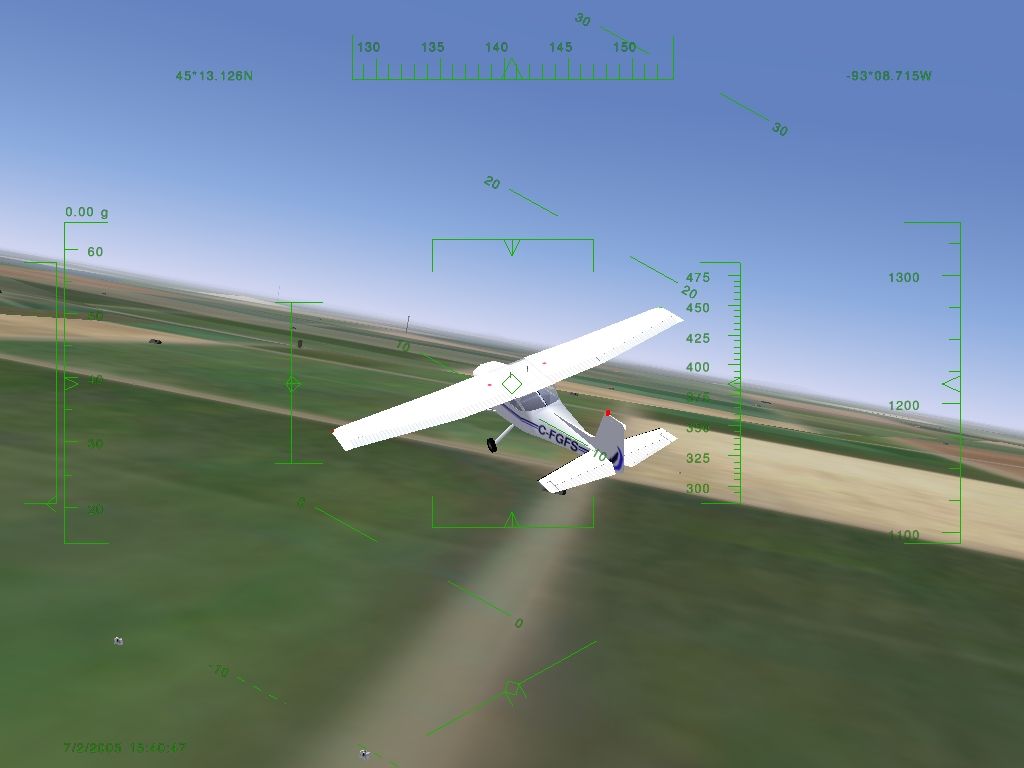 Virtual-UAV-04 Here is a plot of a portion of one of our flights.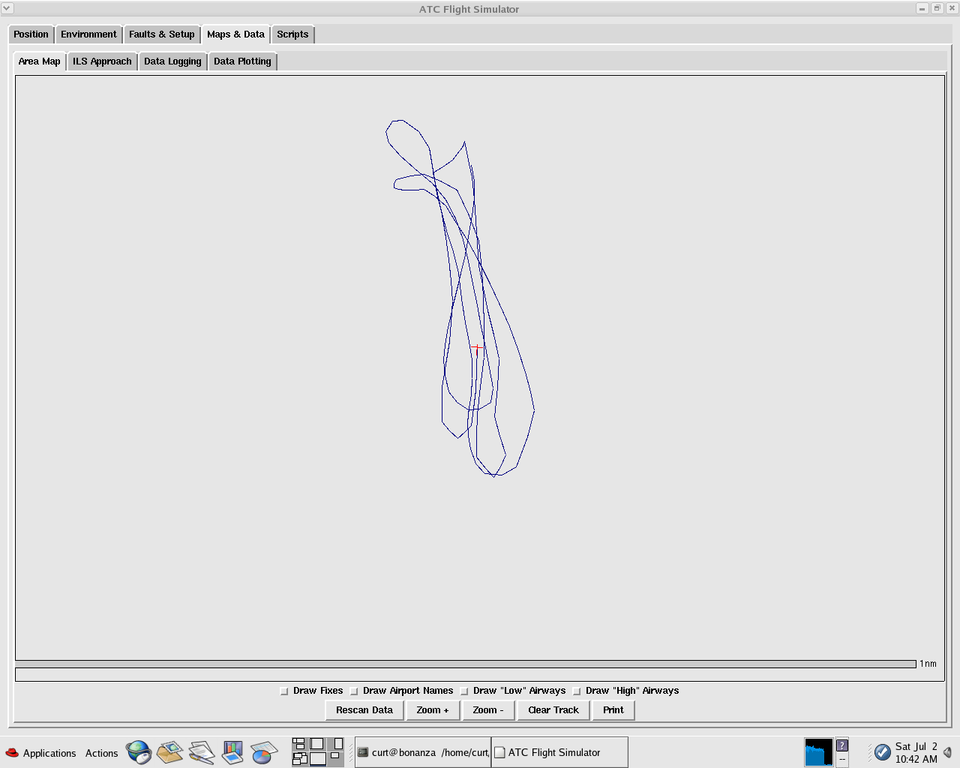 UAV-Track-01
August 5, 2005.
We had to scrub today's tests due to radio interference problems (eventually traced back to the receiver.) Our intention was to test the newly installed wireless video system with two cameras. One pointed straight down and one pointed forward 45 degrees.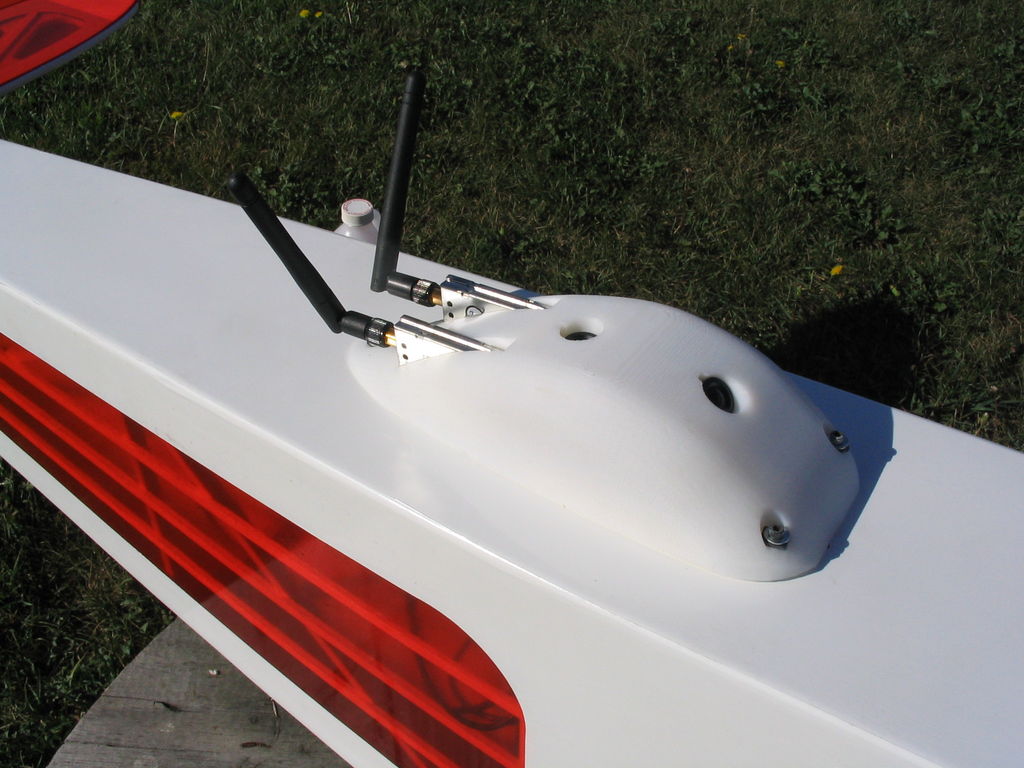 img_2784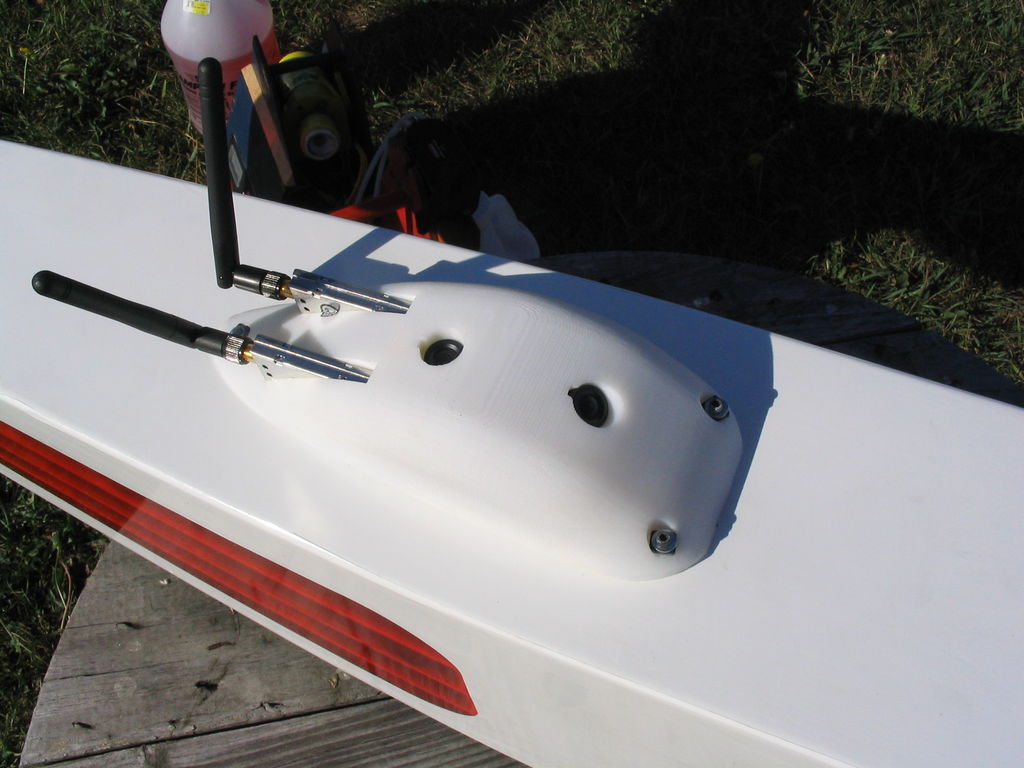 img_2785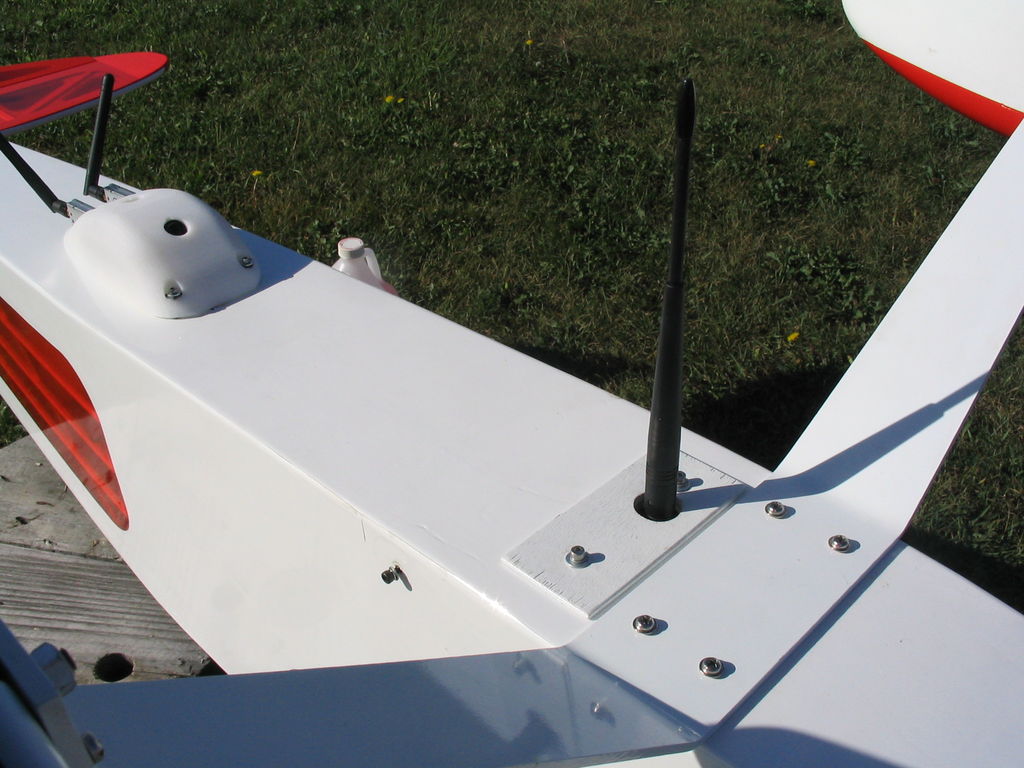 img_2786
August 24, 2005.
Today we did 3 really nice flights to test our MIDG II IMU and our 2 camera, 2 channel wireless video system. We think we got excellent looking data back from the MIDG and it appeared to work *very* well. Unfortunately, our wireless video was really bad. We are going to have to do a lot of work on the video system to get it up and running satisfactorily.
We bought a second Rascal (RTF). This one is powered by a Zenoah G26 2-stroke gas engine.
Update: I worked over the weekend on parsing the MIDG binary data and feeding it into FlightGear. The result is a really nice animation of the 3 flights. The 50hz data rate on the MIDG captures a lot of the subtle nuances of the flight, dutch roles, wind gusts, twitchy thumbs, and even does a good job capturing aerobatic maneuvers–loops, rolls, wing overs, etc.
2005-08-24 13:02:14 -0500 - Written by curt