A popular tourist destination going back to at least 1856.  From Wikipedia: the Dells of the Wisconsin River, a scenic, glacially formed gorge that features striking sandstone formations along the banks of the Wisconsin River.
Today the Wisconsin Dells is a regional summer hotspot for water parks and other attractions, not to mention timeshare salespersons.
We just spent 4 days in the dells and never having been there before, stumbled on some things that were wonderful and a few things that were real stinkers.
Recommended:
Restaurant: Carvelli's Pizza and Pasta House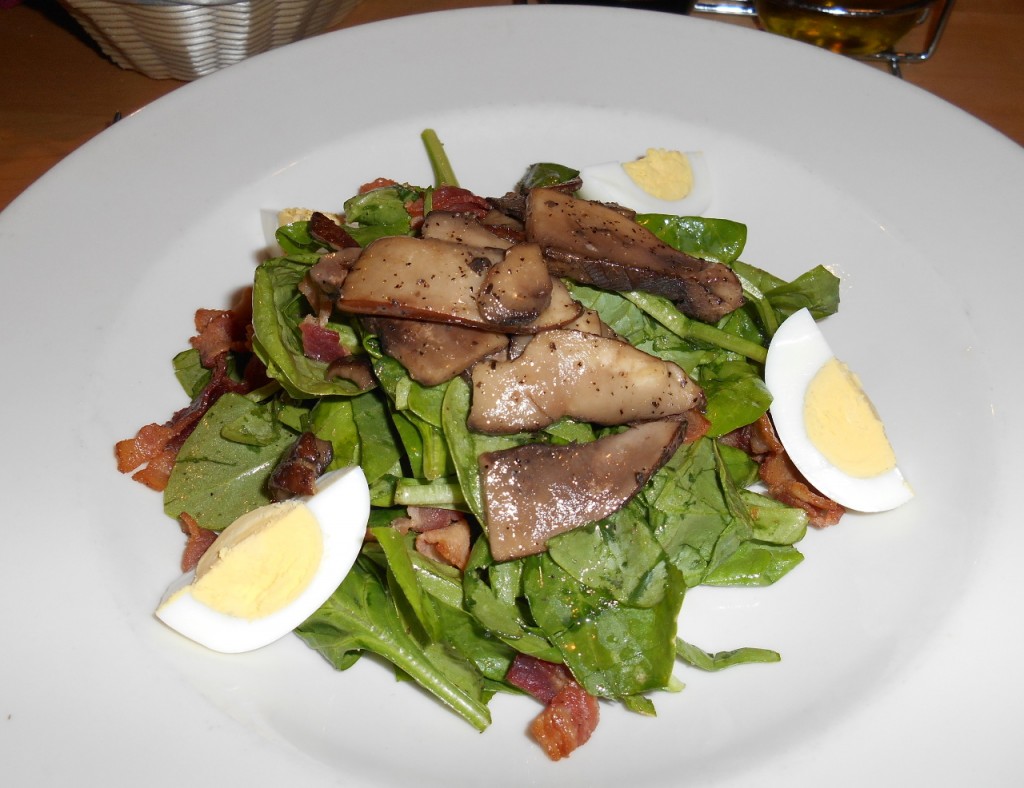 We went to Carvelli's on our last night and were blown away.  We had a late lunch and were trying to do a quick dinner before the magic show in town, so Carvelli's was an afterthought for us.  Big mistake!  Both my wife and my daughter thought it was the best italian food they'd ever tasted!  I ordered a simple spaghetti and meatballs, and have to say that was the fanciest and tastiest spaghetti I'd ever had.  I'm an applebees and olive garden regular, so I just wasn't used to seeing green bits with extra flavor mixed in with my noodles.  There was just something about the food and you could tell the chef had poured his heart and soul into it.  There was some extra love, extra attention to detail, extra energy that showed through in the result.  The desert was somewhere on the continuum between heaven and perfection.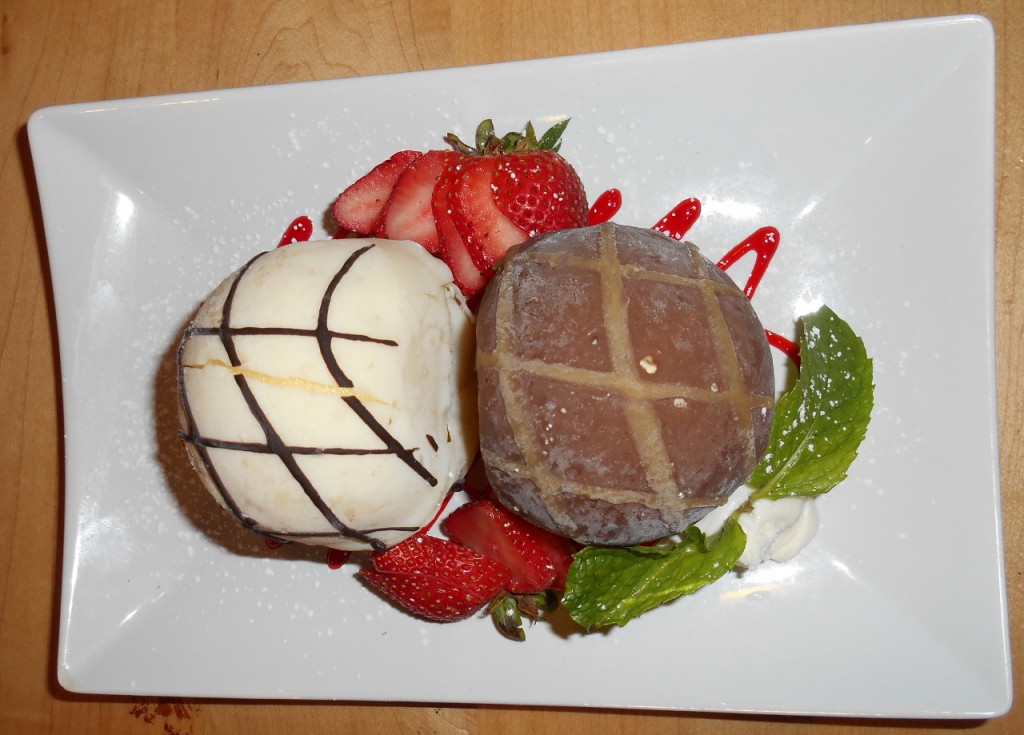 My wife was so enamored with her dish that she asked our server if we could meet the chef and if not to at least pass on our highest compliments.  Sure enough, right at the end of our meal the chef came out to say greet us, and he was just a young kid!  It turns out he was not italian but was from Peru and had studied culinary arts in Lima.  Even though I'm a white guy, I was born in Peru myself so that was kind of a cool connection.  All I can say is Roberto, you rock, your italian speaks for itself!  I hope you are there next time we visit, and if not I know you'll be a tremendous success anywhere you choose to go!
Restaurant: San Antonio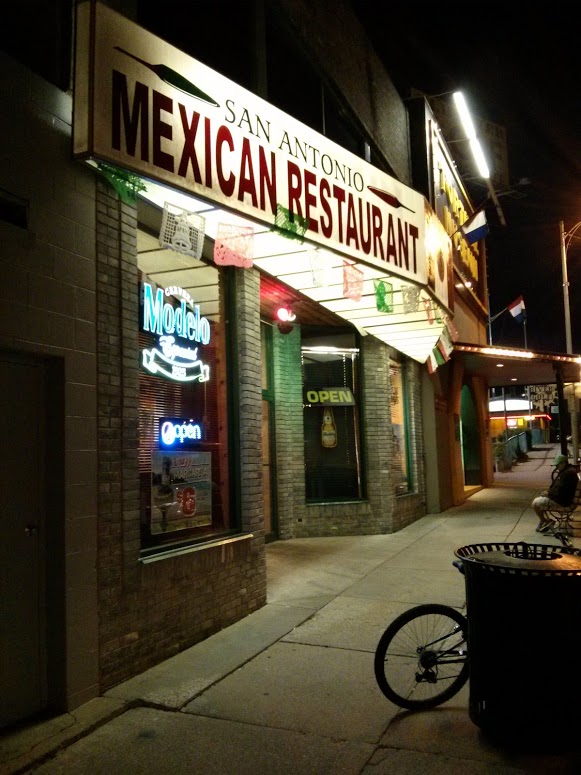 San Antonio's is traditional Mexican restaurante located towards the far western end of the main broadway strip in the Dells.  Honestly, we just stumbled in on a whim.  We were walking the broadway strip, half thinking we should get something to eat, and half thinking maybe we'd just get french fries or ice cream or fudge or something, half thinking we were too tired to decide on anything and might just hit the McDonalds drive through on the way back to the hotel.  But we got all the way to the end of the broadway strip and really didn't see anything that captured all four of us, so there was this Mexican restaraunte 2 doors up the side street next to the 'torture museum' and we figured for lack of anything better we'd at least look at their menu.
We really were pleasantly surprised.  Their prices were extremely reasonable and not seasonally adjusted like so many places in the summer time at the dells.  The service was very good.  And the food was way above average.  The restaurante was also very open and clean and looked like it was recently remodeled.  Next time we are at the dells, we'll definitely make time to visit San Antonio again.
Restaurant: Cheesecake Heaven
Ok, they do sell cheesecake, and it does look wonderful, but we didn't try any of that.  Instead we went for the ice cream.  It had to have been made in house because I've never seen those exact collections before any other place.  This is probably the best, or at least on par with the best ice cream I've ever had.  I'm not exactly an ice cream expert, but I have eaten a lot of ice cream over the years.  If there is some concept of 'balance' in ice cream in terms of heaviness/lightness, consistency, flavor combinations, quality ingredients, etc. they just nailed every specific criteria you could come up with.  If you just close your eyes and take the whole thing in, they nailed it.  Boom!  If you like ice cream, go here.  If you skip this place, then you deserve your own dismal fate.  What else can I say, it's that good!
Restaurant: Moose Jaw
This was a fun place with good atmosphere and good food.  It had a polished, chain sort of feel, but I think it was just a really well run establishment.  A good solid choice.
Entertainment: Rick Wilcox Magic Show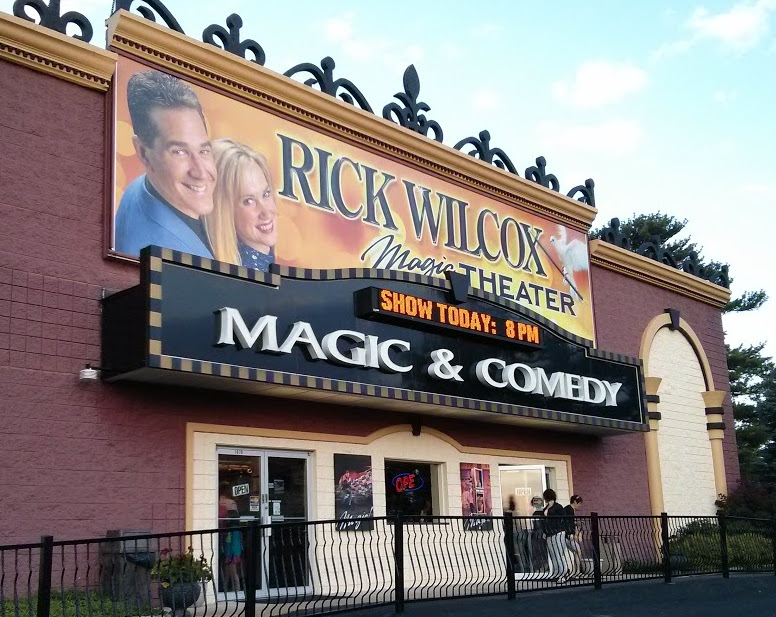 Wow, fun, real top notch magic and illusion like you might get from David Copperfield, or Pen & Teller, or Lance Burton in Vegas.  Rick and his wife put on a really great show.  Our kids had never seen anything remotely like this and were blown away.  Along with being a really great magic show, it was a rated "G" for the kids.  They had lots of variety, lots of humor, lots of classic styles of illusions, and all really well performed.  I'm really glad we went, even though it was our last night and we were tired and pressed for time.  It ended up being one of the top highlights of our trip.
Entertainment: The Original Ducks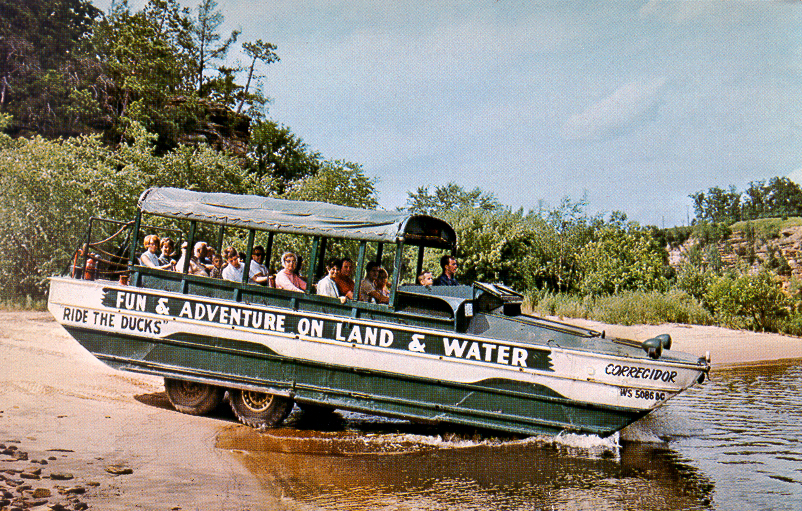 This was our first time at the dells, but the one thing we knew going into this trip is we had to do the ducks.  A duck is a vintage WW-II amphibious vehicle.  It has a noisy diesel engine, 6 wheels, and a propellor and rudder.  They can drive right in and out of open water.  In the water they are a boat, on land they are a bus.  They can do maybe 50 mph on land and maybe 10 mph in the water.  The ducks ride was probably about an hour with a college age driver guide who gave some history of the area, told some outright bologna, and cracked more than a few jokes and cheesy puns along the way.  It was actually a pretty fun time and worth doing if you are ever in the dells.  They take you through the woods and out onto the wisconsin river.  Then up a stream, back through some woods, out on a lake, etc.  This might be one attraction that would be especially pretty during the fall when the leaves are turning colors.
Entertainment: Mount Olympus Theme and Water Park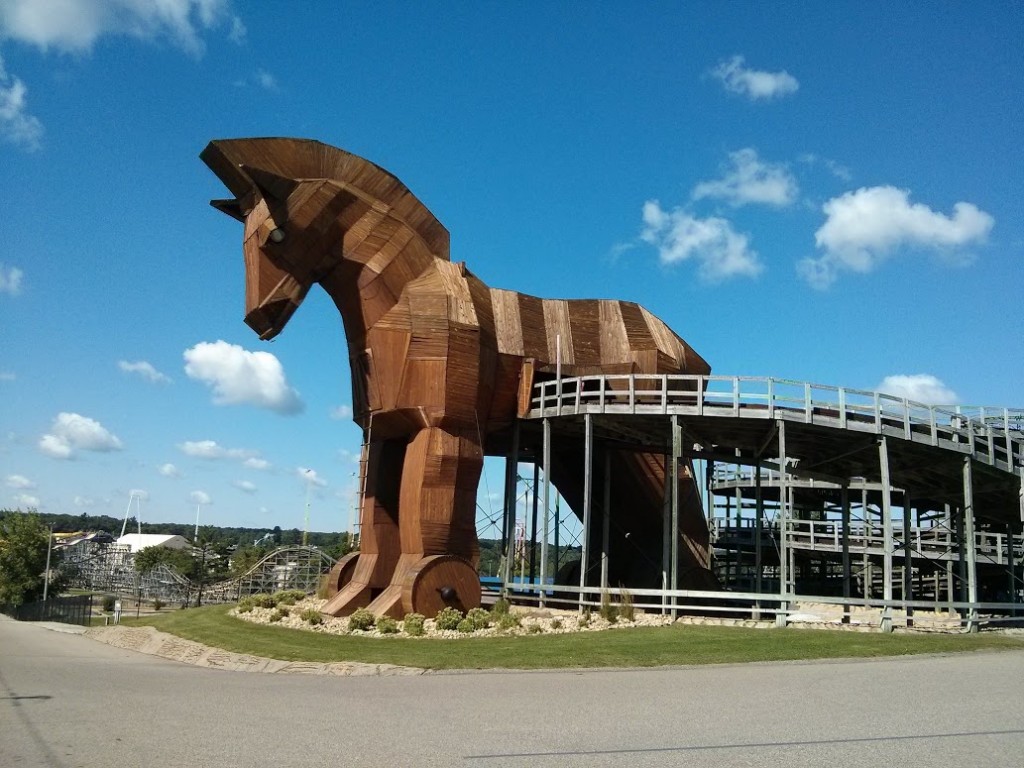 It turns out this is the world head quarters for wood roller coasters and go carts.  That's about all the non-water stuff they have, but they have at least 4 high intensity roller coasters (Pegasus, Cyclops, Zeus, and Hades 360 which goes underground and loops and was too crazy for my girls to want to attempt) and at least 4 crazy go-cart tracks.  They also have a huge area of indoor and outdoor waterpark type attractions.  The one my girls really liked was the wave pool which was crazy.  After I got kicked in the head and my suit kept coming off with each wave, I decided I was done, but my girls wanted to stay in there the whole day.  The downside to Mt. Olympus was it was big and crazy and a ton of people.  You get unlimited ride wristbands which means there was 30-60 minute waits for anything interesting.
Entertainment: Chula Vista Water Park
Much smaller and more low key than Mt. Olympus, they still had 4 pretty intense water slides.  You could spend a day here easily and the lines are nothing compared to Mt. Olympus.  The downside: their snack shop was horrible.  Gas station hot dogs are a big step up from what they were offering.   Chicken strip baskets just sitting out and attracting flies all day?  $6 for an 8 oz plastic cup of warm bud light?  No thanks!  What little nourishment I do have in my stomach I would like to keep there!
Take Your Chances:
Restaurant: House of Embers
I hate being negative. 🙁  They did have a lovely out door seating area with tons of flowers and hanging baskets and we went on the perfect evening for sitting outside.  But the first thing they brought us was a basket of wrapped up butter cubes (I'm not sure what for since they didn't bring us any bread) and one of the butter cubes had a used piece of chewing gum stuck to it.  Gross!  We were willing to forgive one innocent error, but then the food came and my chicken sandwich was poor at best and my daughter's hamburger was not cooked through properly and honestly, the food was just gross.  And this is a place that charges 'fine dining' prices.  The prices seem fairly arrogant after you see the food.  Maybe they had a bad night?  Maybe the pilots ate the fish and the flight attendants were trying to land the plane?  I don't know.  There's an applebees in town which is twice the food for half the price so surely House of Embers will never see us again. (Stop calling me Shirly.)
Timeshare: Bluegreen
Think you are getting an awesome free vacation in return for sitting through a 90 minute presentation and a quick tour of a couple timeshare properties?  Well … (1) I'll never get those 4 hours of my life back and neither will our sales guy, (2) the hotel we got for 'free' was "meh" at best, (3) you still have to pay your transportation, food, entertainment, etc. and all that adds up really quick.  Oh, and the timeshare sales guys are really good at what they do.  In the heat of the moment it sure seems like a great deal and the longer you hold out, the more they sweeten the deal.  But search for timeshares on craigslist for example.  There is more than one big company offering these plans and there are people willing to all but give theirs away just to get out of the monthly/yearly maintenance fees and dues.  Does that tell you something?  My take: maybe if you are an avid 'pure' vacationer and are really good at structuring your life around your timeshare plan and disciplined to get just the good deals and only the good deals a timeshare can work for you.  But if you are that structured and disciplined, why are you signing up for a $10,000 plan at 17% interest over 10 years on a 90 minute whim because you can't tell a slick sales dude a simple "no"?  If it's a good deal, shouldn't you be able to go away and think about it and confirm to yourself that it's a good deal?  Why do you need to sign right now today or lose all your 'incentives'?  Do it!  Sign it! Now! Now! Now!
Meh…
Hotel: Skyline Hotel & Suites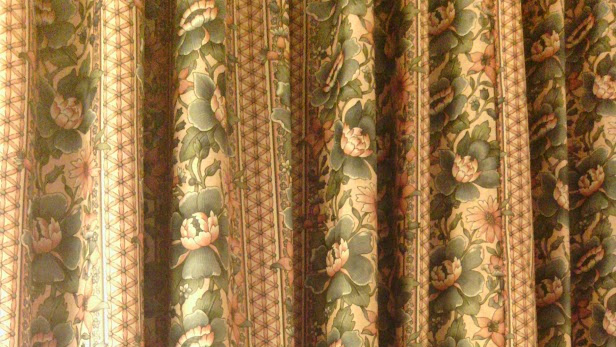 I don't really have too much negative to say.  I don't have a lot positive to say either.  The hotel is what it is I guess.  I've stayed in a lot nicer for a lot less money, but this is the Dells in their prime summer months so probably the price was fair enough for what they offered.  The best thing I can say about the hotel is that it was right in the middle of the action: next door to the 'Original Ducks', right across the street (walking distance) from Mount Olympus (wood roller coaster & go-cart & waterpark heaven.)  Everything else about the hotel was just a bit underwhelming, not quite making average marks.  The wifi was slow and often sketchy, the breakfast was meh at best (other than the waffles you cook yourself), the coffee was actually undrinkable.  But hey, you don't go to the Dells to hang out in your hotel room, and there's a starbucks if you drive into town so no worries!
Todo Next Visit:
Entertainment: Top Secret
So you come up the hill and at the top is this crazy structure that doesn't make any sense.  As you look closer it looks kind of familiar, but you can't quite place it.  Then it hits you … it's the White House, but ripped off it's foundation and dropped upside down … full size … with a crushed presidential limo at one corner and a dinosaur head breaking out one wall.  It's one of those things where you ask yourself if it might just be worth checking out?
As with just about any place, there is far too much to do in one visit.  Next time we'll definitely try to find a hotel that's a step above what we had this time.  Mount Olympus is an impressive park, but next time we'll probably try out one of the other water/theme parks.  Next time maybe we'll try going back in one of the winter months and focus on indoor stuff … hopefully to find saner hotel/food prices and maybe a slower pace than you get during the crazy busy summer months.
If you have some ideas to suggest for the Dells; something we missed or didn't notice; please let me know!
2013-08-03 10:48:54 -0500 - Written by curt