Thunder Tiger Tiger Bipe 40
Purchased: May 23, 2004 (from ebay)
This is a partially assembled ARF I bought in a moment of weakness. Much of the assembly work was already done so it only took me an evening or two to of work to get her ready to fly. She flies like a dream – tons of fun. She is very aerobatic; quick, nimble, and light to the touch, but has pretty long moments so is also stable. All in all a very nice flier.
October 3, 2005
Sold to a nice guy in Georgia who will provide her a nice home. 🙂 Here are a couple picts I took as I was packing it up.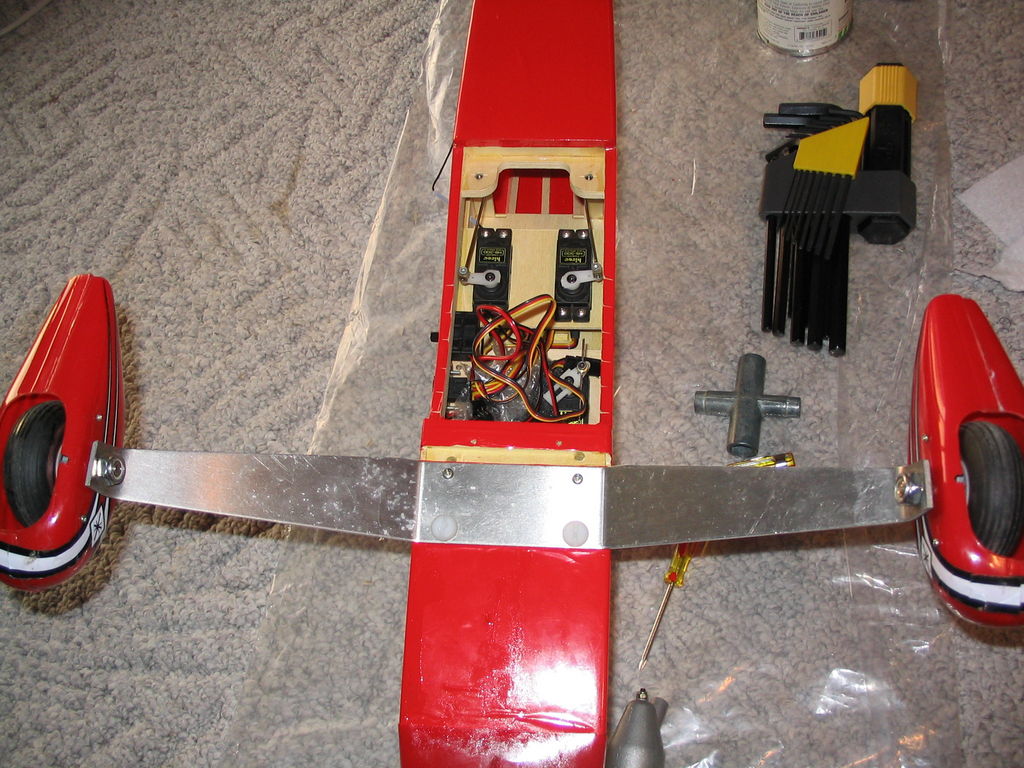 img_2956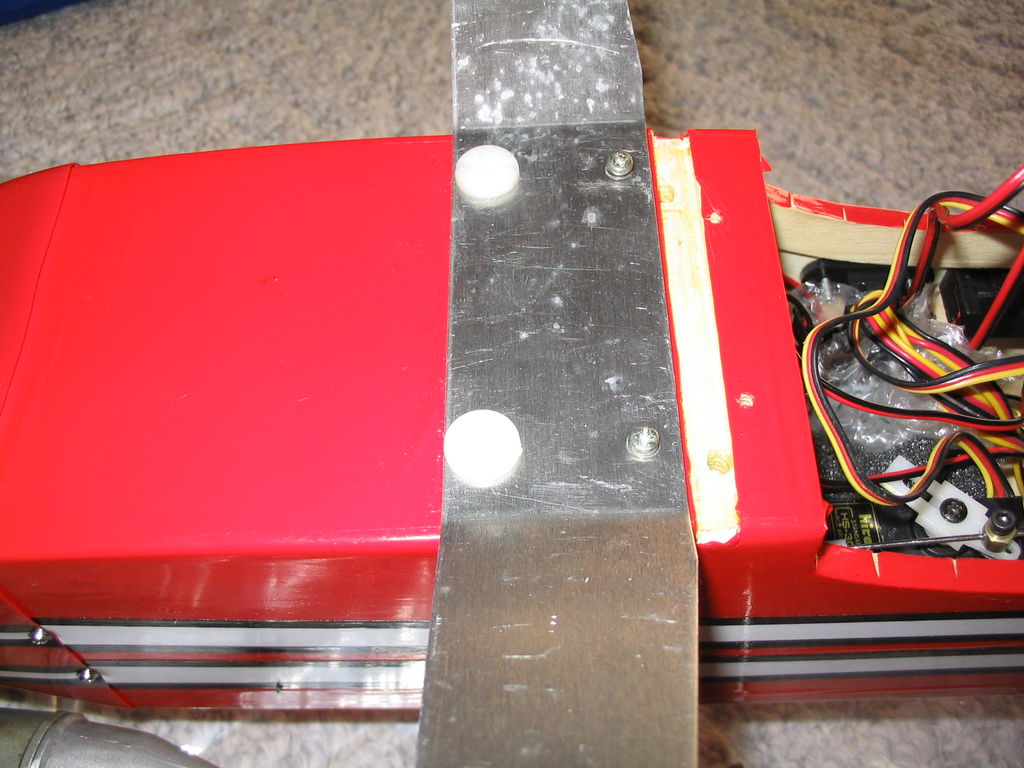 img_2957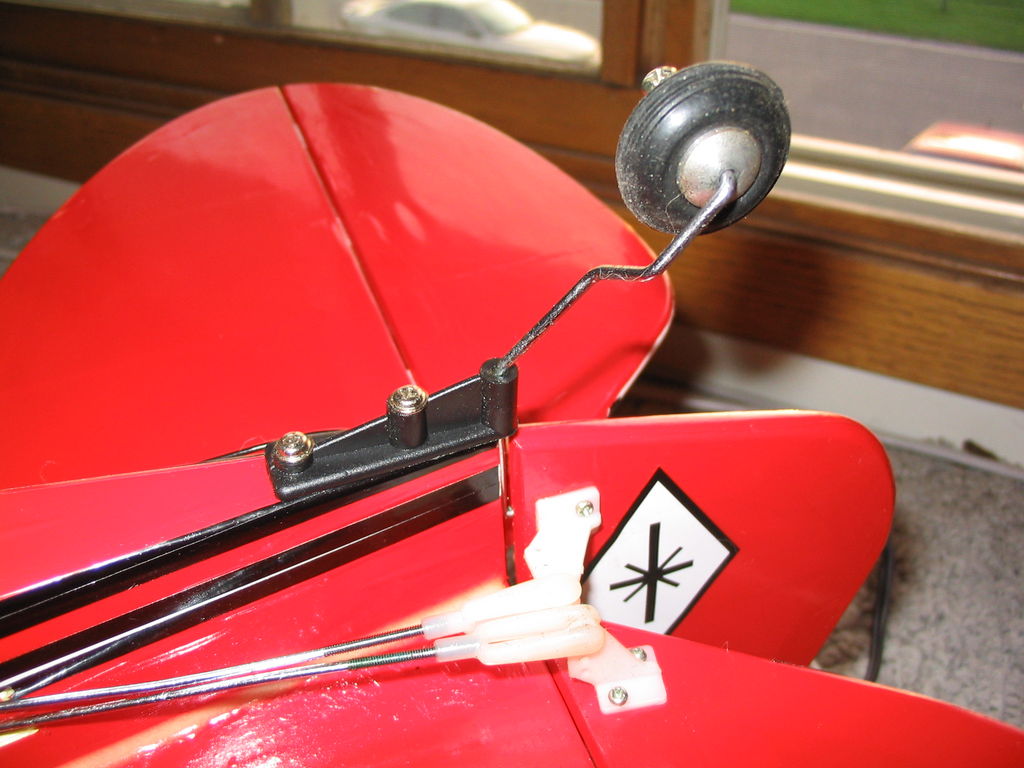 img_2958
July 5, 2005
After flying this airplane once this year I became totally fed up with it's tendency to nose over on landing. I had the day off today, so I replaced the wire gear with an aluminum gear and moved the wheels an inch foward. This should help the ground handling quite a bit and I think everything looks nicer without that spindly wire gear.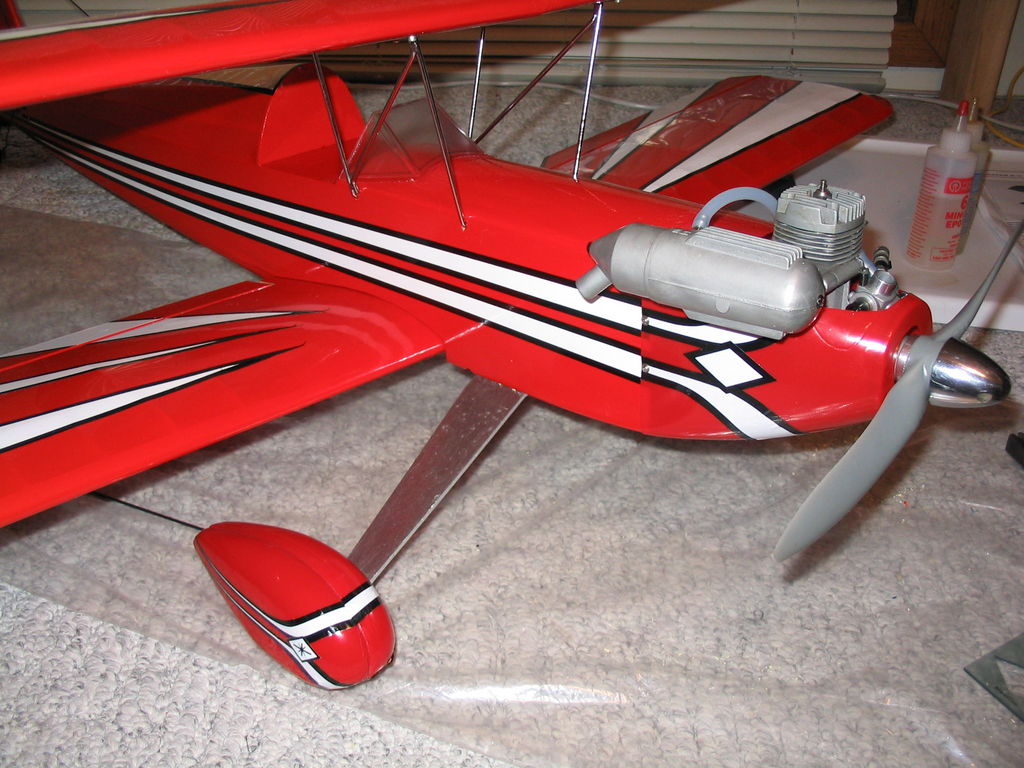 img_2667
June 16, 2004
Posing with cowl and wheel pants and windshield.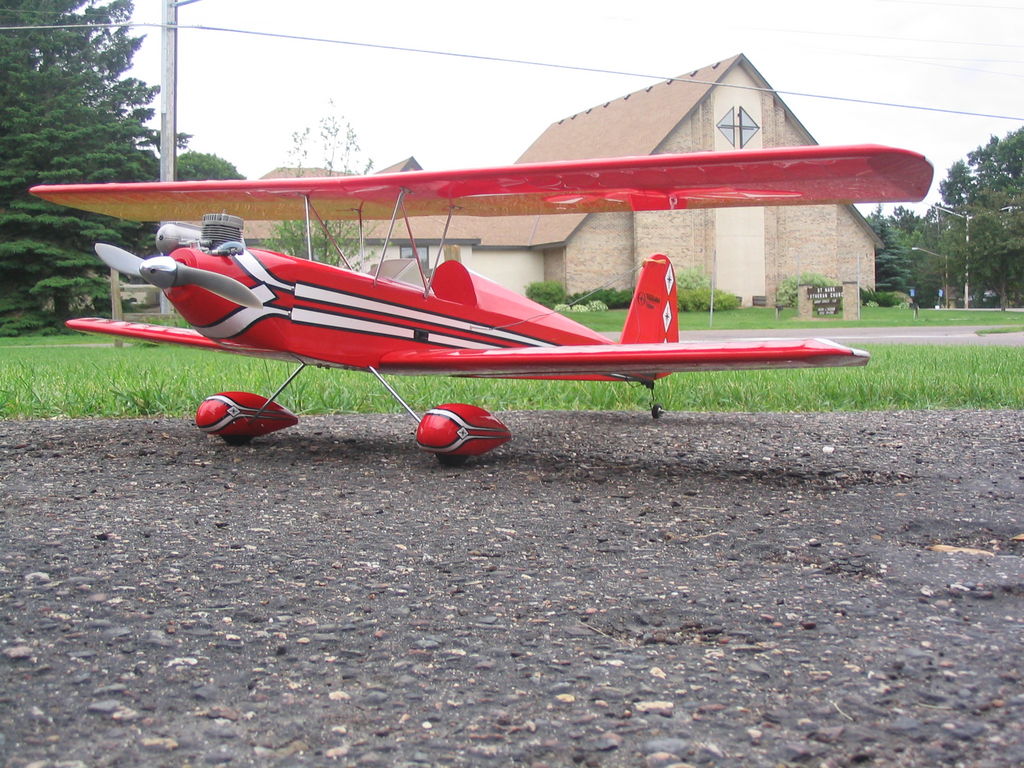 IMG_1413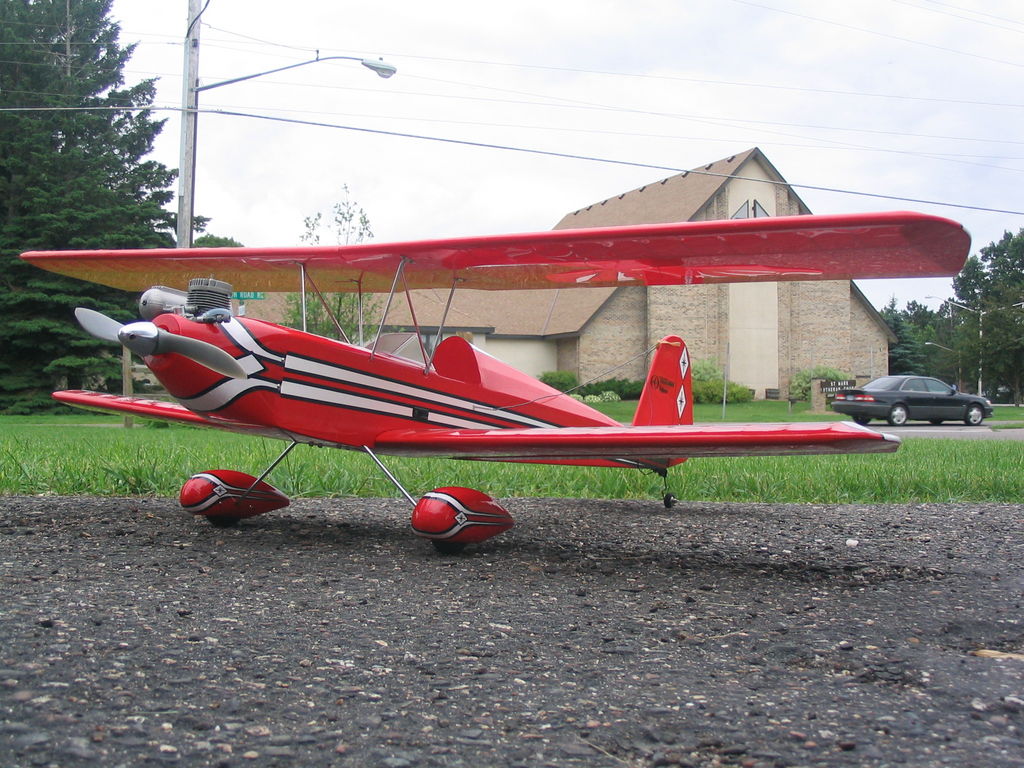 IMG_1414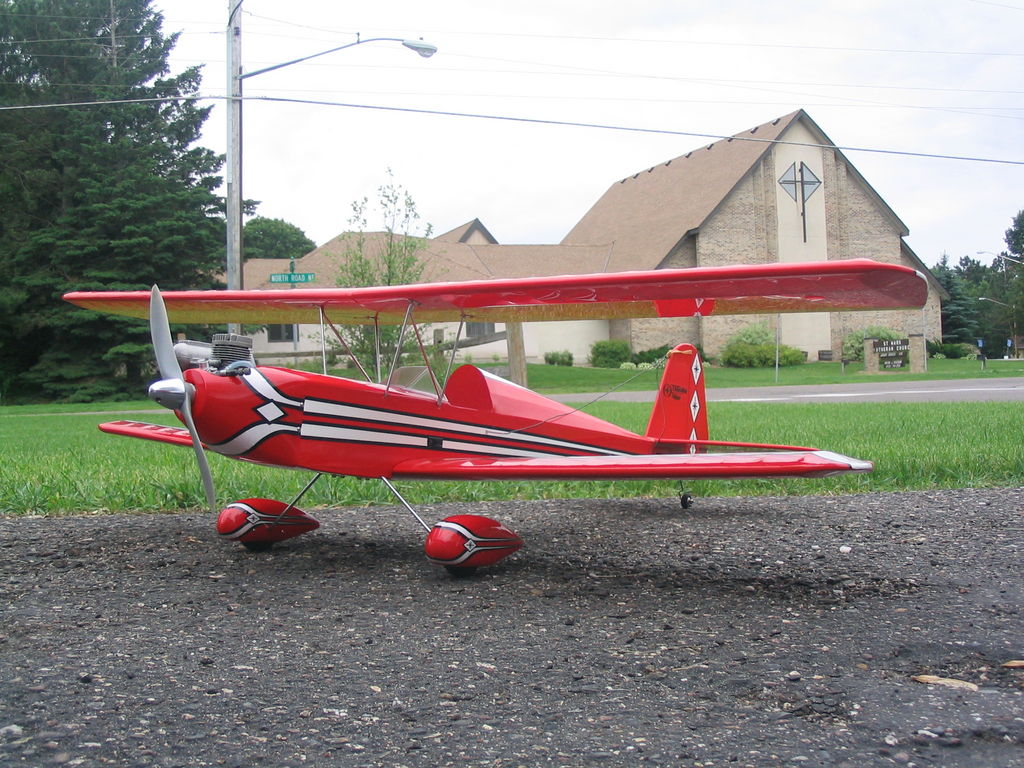 IMG_1415
May 28, 2004
I was on a roll so I stayed up until about 1am last night to get this mostly polished off. The muffler that came with the engine was goofy (someone attemted to turn it into a tuned pipe) and one of the screws was hopelessly bent so I think I will chuck it. Turns out the muffler mount is exactly the same dimensions as an OS 40 FP down to the screws so I grabbed a muffler from a spare engine I had laying around and that worked perfectly. Whew I didn't want to have to wait around a couple weeks ordering something new.
I haven't put on the cowl the wheel pants, or the windscreen yet, those are the only remaining things to do.
Here are some pictures at the field before the maiden flight: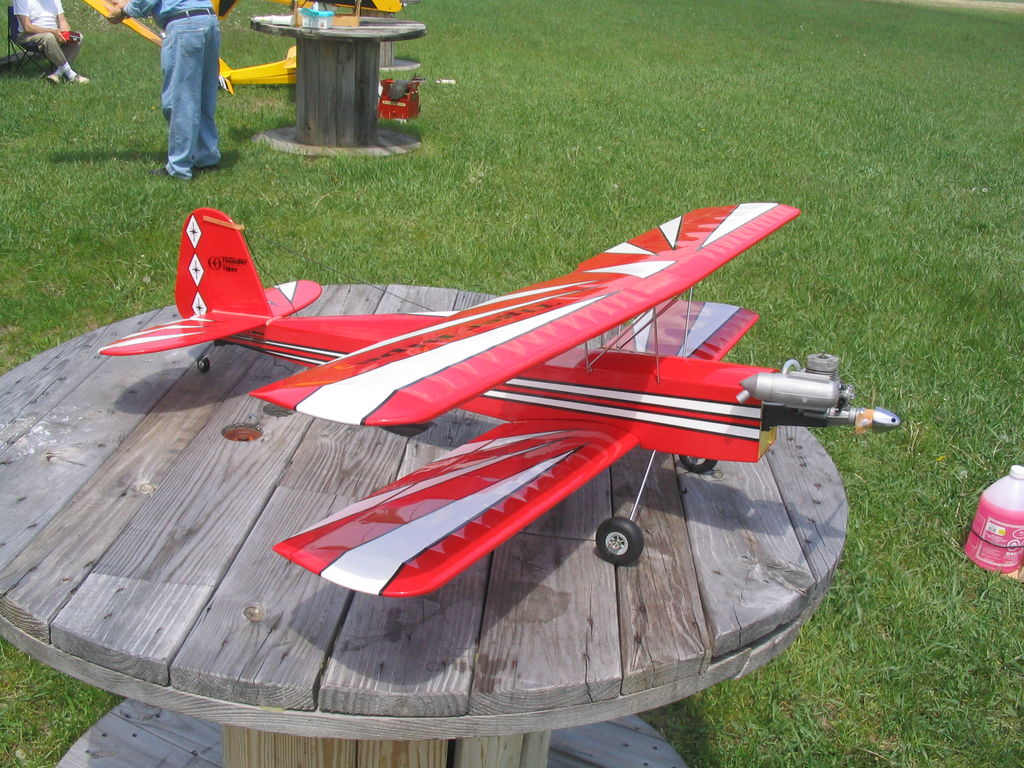 IMG_1354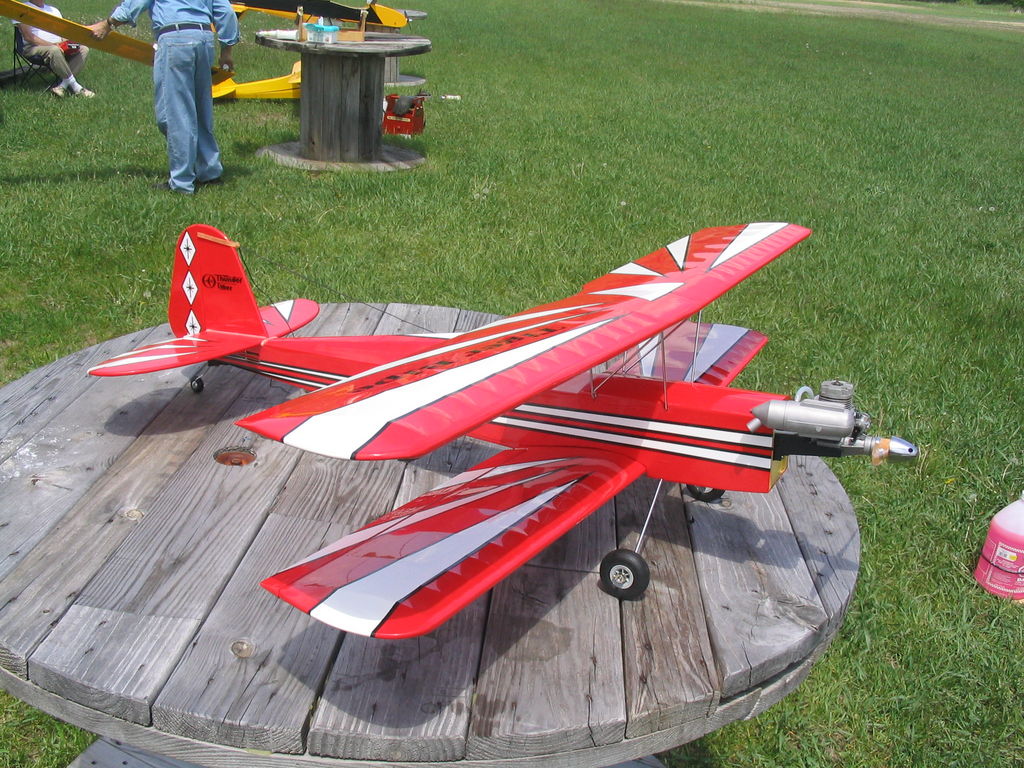 IMG_1355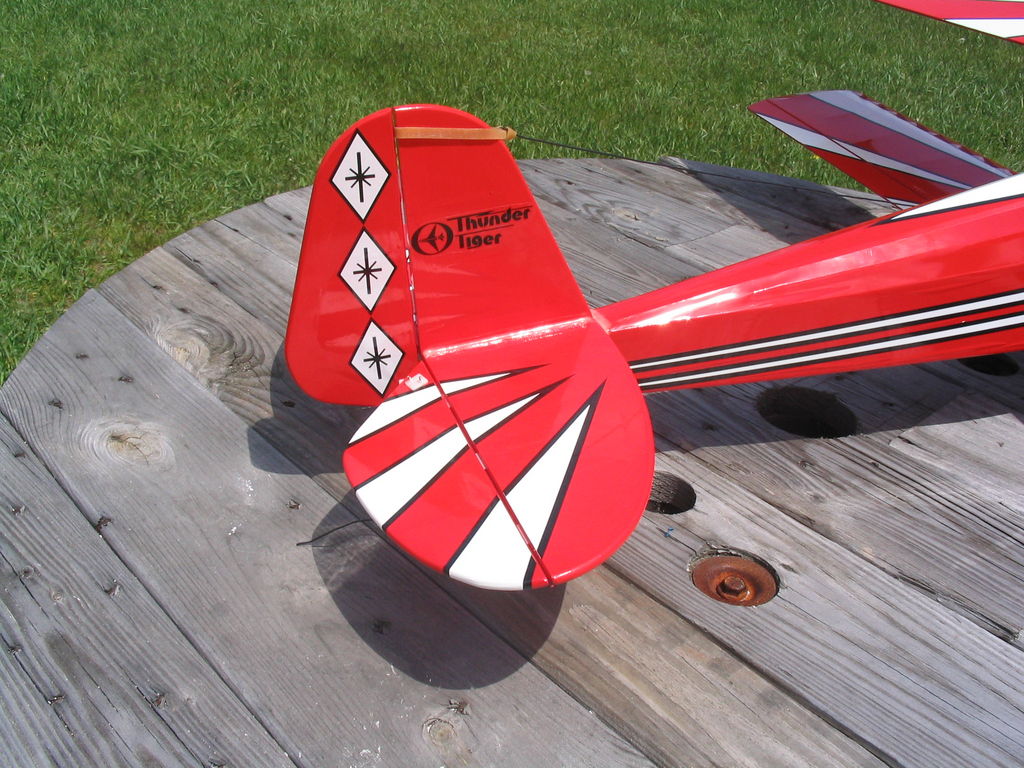 IMG_1356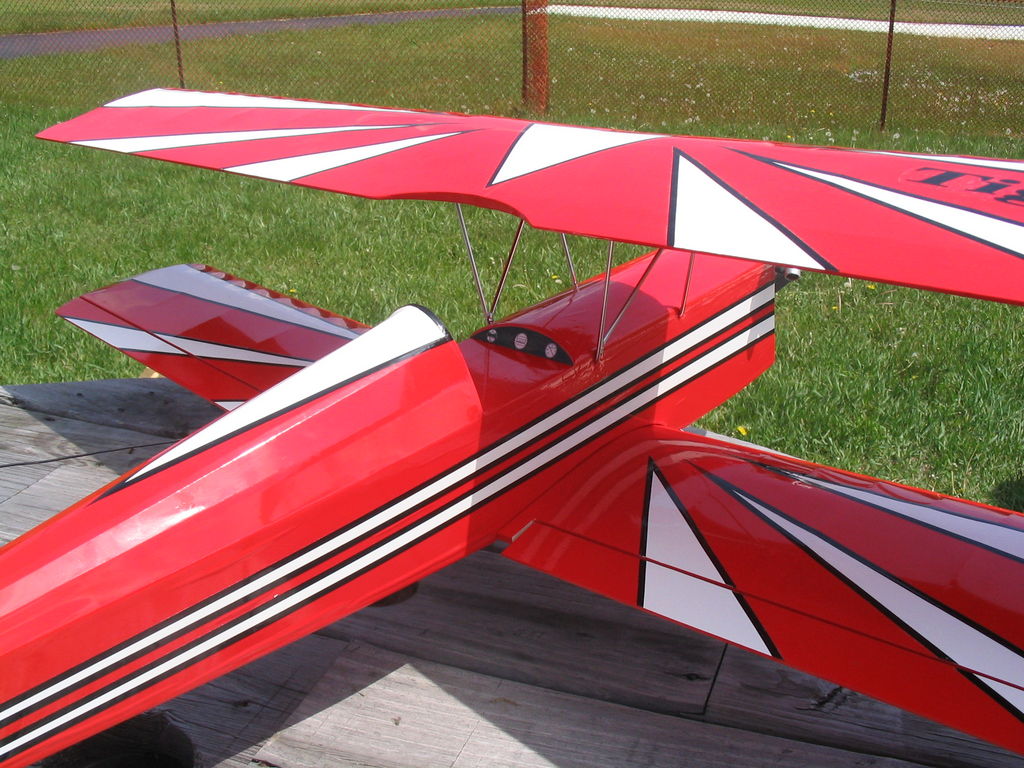 IMG_1357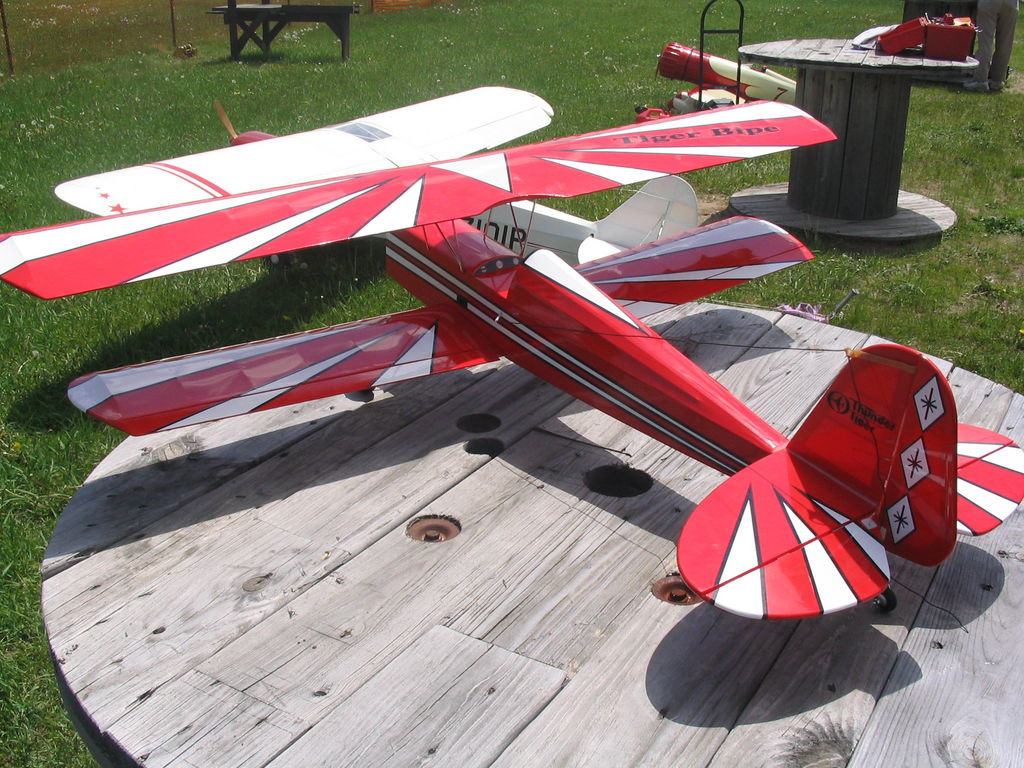 IMG_1358
I gassed her up, adjusted the engine to be pretty rich since the engine is relatively new and I wasn't sure if it was fully broken in yet.
She flies really nice. Very nimble, kind of quick, but not overly fast. It has a very light touch and the engine has more than enough power. Half throttle loops are a breeze. It's lighter construction than some of the other planes I have, so I backed off on the throttle on the down directions so I wouldn't overload the airframe (but all indications so far is that the airframe will hold up to whatever I throw at it.) When you do cut the throttle and she eventually slows down, she can be really gentle on the landings. That's something where I need a bit of practice. 🙂 I always tend too high and too fast. But it will be possible to do really nice three point landings with this aircraft.
May 27, 2004
Posing in my living room …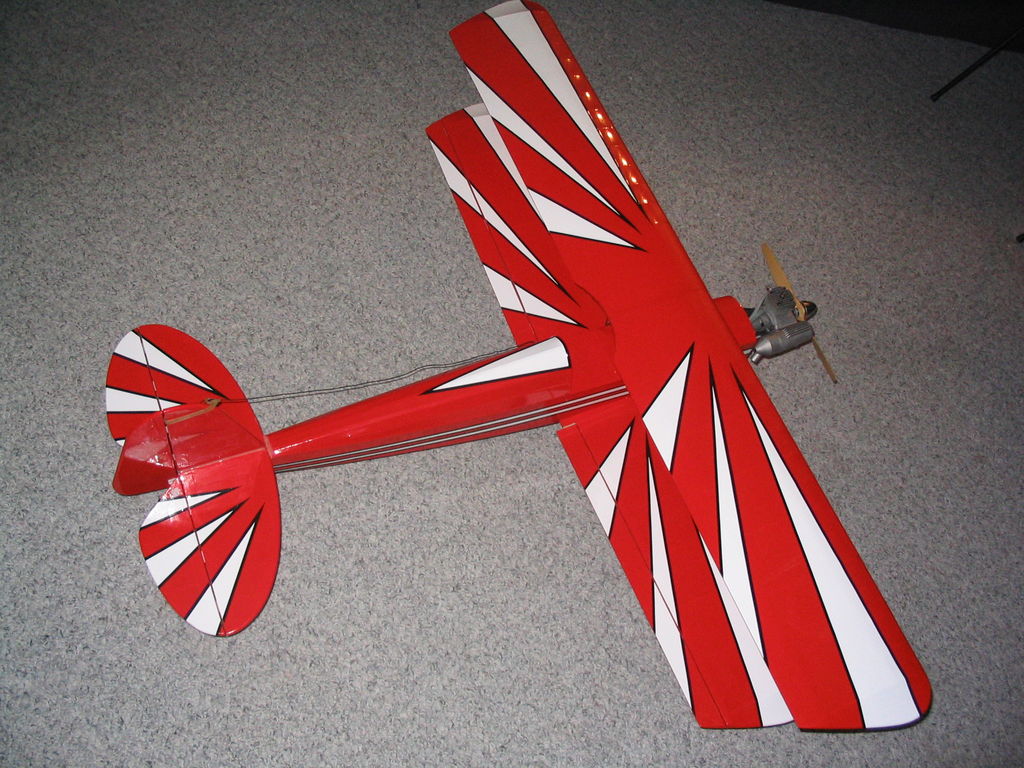 IMG_1350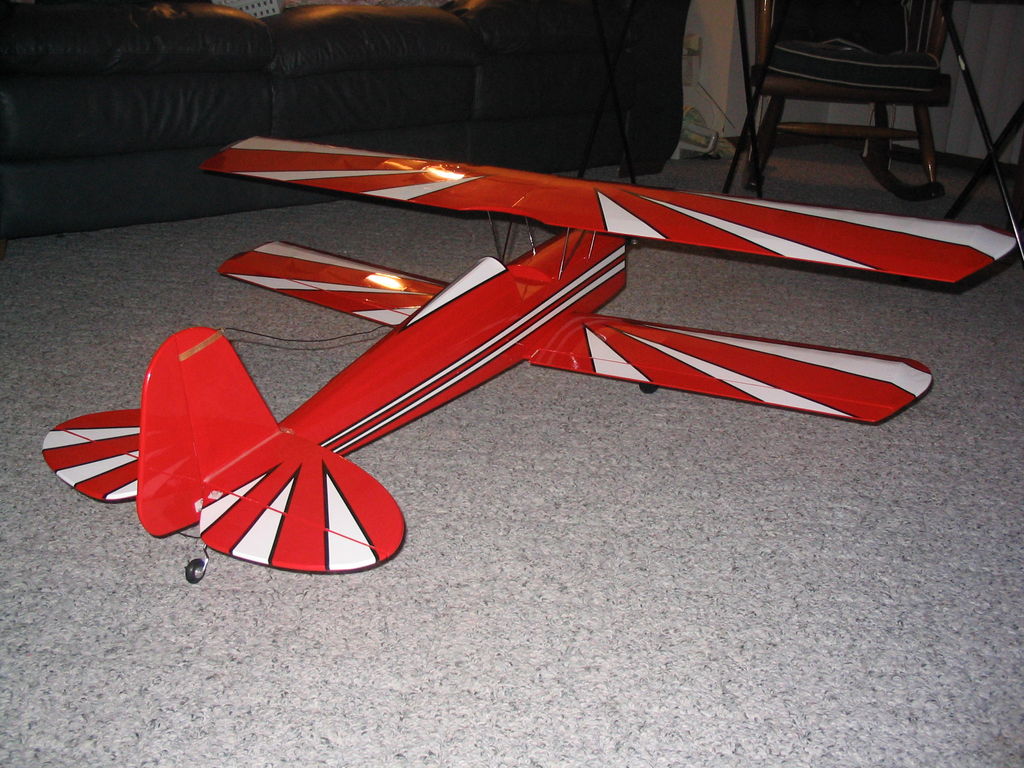 IMG_1351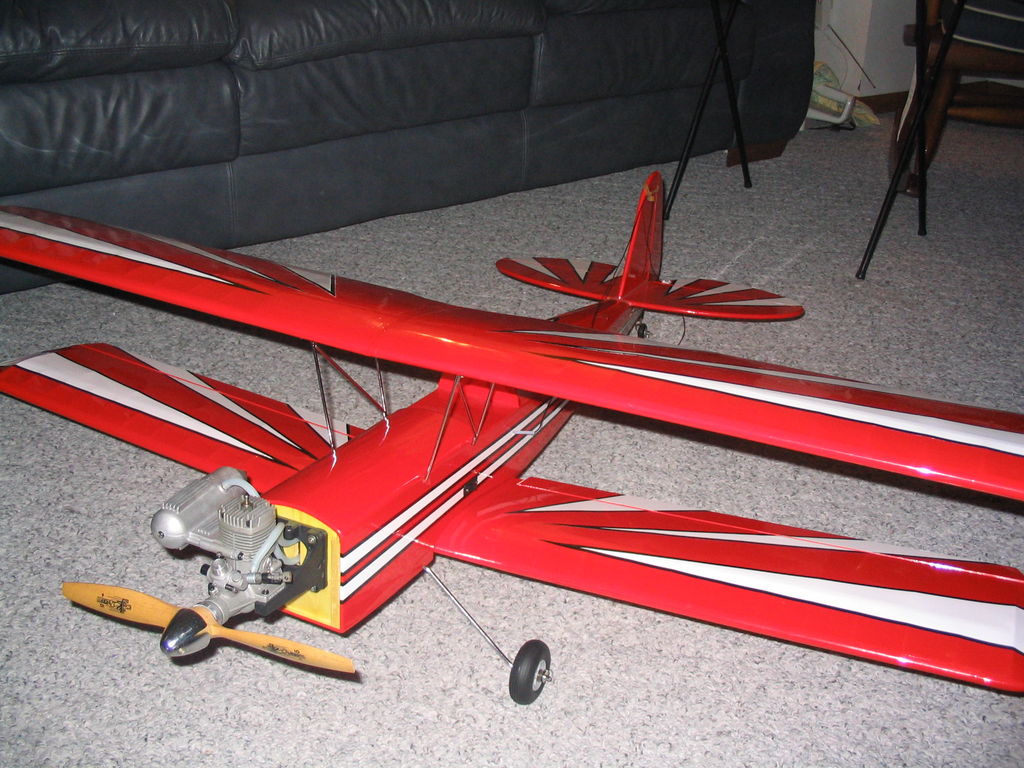 IMG_1352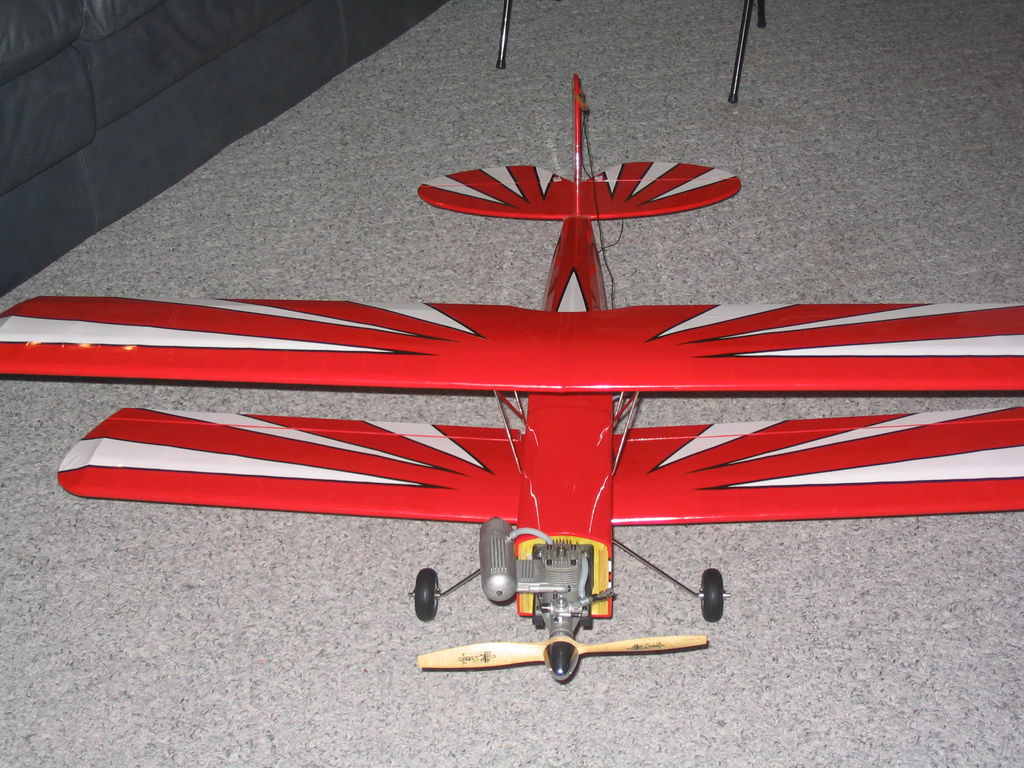 IMG_1353
May 23, 2004
I bought this aircraft brand new from Ebay. We were in Chicago for the weekend so we did the pickup on the way back and fortunately it all fit in the trunk since the car was full and we had picked up an extra passenger on the way back. Much of the assembly work was already done and the craftmanship was excellent. Here is a picture of the box: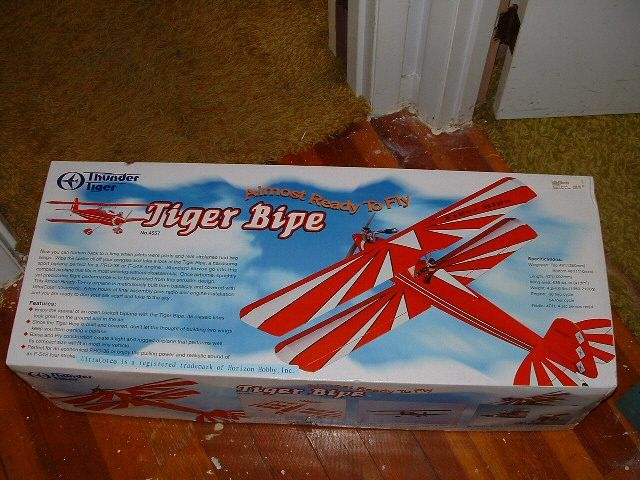 80_3 I was a bit surprised that the wings were so small, but I guess there are two of them so they need to be smaller than the wing of a similar monoplane.
2005-10-03 08:11:59 -0500 - Written by curt