Hobbyking Sonic 64
This is 1230mm (48.4″) wing span flying wing.  It is powered by a 64mm electric ducted fan.  It is a simple build and flies great!
Here are a couple pictures before the maiden flight (temperature was about +18F, winds were calm, skies had a medium thin overcast.)
My one gripe about the Sonic 64
Of course we buy airplanes like the Sonic 64 because they are inexpensive, quick to assemble, and fast to get out to the field and up in the air.  It doesn't hurt that they look great and are a lot of fun to fly!  But in the case of the Sonic 64, perhaps it is a little too inexpensive.  The servos that came with the kit were utter garbage.  One of them was completely useless and unsafe to fly.  It couldn't hold a position, and it had a lot of trouble with it's potentiometer.  The other servo probably could have been able to fly safely, but not fly well.  I submitted an RMA to Hobbyking where I purchased this ARF, and to-date they have not responded with an "initial evaluation."  Typically the stuff I get from Hobbyking works and meets expectations, but this is pretty poor customer service to not even acknowledge my RMA request after a week and a half of waiting.  So I gave up, dug out the original servos, and replaced them with Hitec HS-55 servos.  These are $10 servos and far better than the $0.50 servos that came installed with the kit.  Unfortunately the servo leads on the Hitec servos were shorter so add two $3 servo extensions.  And finally add the cost of some glue to install the servos properly … altogether that added about $31 to the cost of the airplane … and Hobbyking still has yet to respond to my RMA.
Servo Installation in foam wings
My new favorite glue for installing servos into foam wings is: E6000 (available at Michaels and probably lots of other places.)  It is not a quick dry cement (let it dry over night) but the result is solid, it seems to be foam safe, it dries clear, and according to the video it's pretty easy to cut through with a knife to later separate the glue joint.
I ran up to Michaels last night and got a small tube to try on my Sonic 64 and I'm really pleased with the results this morning.  I've tried different techniques over the years, but I've had hot-glue and double sided tape be wiggly or just pop out.  Epoxy is a bit too permanent when you are talking about cheap servos … E6000 seems to be a really good balance between creating a solid glue joint between a servo and foam, but then being able to separate it later if needed.  Here is an in depth how-to video (not mine) with a bunch more explanation.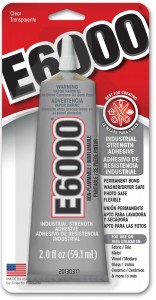 Variants
This same design is sold under the name "Neptune" by Nitroplanes.com (but was out of stock when I was interested in ordering it.)  The manual still has at least one reference to Neptune that hadn't been updated. 🙂
Launching
The Sonic 64 is hand launched.  This can be a little tricky if you are flying by yourself or need to get help from someone who doesn't have a lot of airplane hand launching experience … so be cautious, things can go wrong quickly.
The manual suggests running the throttle up to about 50% (that feels about right) and then running 2-3 steps and giving it a good firm level throw (wings level, nose level, throw direction straight and level.)  I had one good launch, one bad/failed lauch (no damage, whew!), and a 2nd good launch on my 3rd try.  I noticed the left wing would really drop quickly.  I made every effort to make a straight level through, but maybe my technique is flawed?  Maybe there is some torque or spiral thrust issue going on?  Hopefully I can learn to do this more reliably on my own.  Often I'm out flying by myself, and then no offense to any of my fellow RC club members, but many of us don't have much hand launch experience.
Next time out I think I may try to run the throttle up a little higher (maybe 2/3rds) and try to release it on an upwards trajectory … maybe 15-20 degrees up?
Flying
My maiden flight was on a dead calm afternoon and the Sonic 64 flies beautifully.  It is stable, tracks nicely, and responds well to control inputs.  It has no rudder, but it can do all the bank and yank type aerobatic maneuvers you can think of.  I attempted a high altitude stall to see what kind of craziness would happen and it was boring … it just dropped the nose and kept flying.  I'm sure I could get it to spin if I stalled it out in a steep turn, but I didn't want to push it too hard on my first time out.  One thing I did manage to do was a sequence of really graceful wingovers.  I could fly a fast eye level pass, climb out steeply, and then as speed bleeds off, roll into a bank (maybe 10-20 degrees) and hold that as you run out of airspeed.  The airplane naturally does a wing over and comes back flying right past you the other direction.  It's really graceful.  If you hold the throttle fixed through the maneuver, it tends to kick you over just a bit faster when you are at the apex and have minimal aerodynamic control and the thrust starts to dominate.  If you pull the throttle back at the apex, then it's a bit more lazy and graceful.
I was flying a cold day (+18F) so the air was relatively dense.  As a result, top speed didn't seem too fast, even though the motor was really wound up.  I expect on a warm summer evening it will zip by much faster in hotter, less dense air.
Landing
The Sonic 64 is a flying wing and behaves exactly how you would expect.  It has a relatively long, flat glide, and if you carry any speed over the threshold, it will glide forever in ground effect.  So there really isn't anything difficult or unexpected, just be ready for a fairly long, flat approach and be ready for it to carry during the flare as it wants to just keep flying forever in ground effect.
Conclusions
This is a great flying, inexpensive airplane that goes together quickly (probably an hour or two maximum.)  It is appropriate for a moderately experienced sport flyer.  It's also a big bundle of fun and looks really cool in the air.  However, I am now aware that if I do have any problem with something ordered from Hobbyking, I shouldn't have high hopes for their customer service and for their response times.  That's unfortunate because I actually like Hobbyking otherwise and everything else I've bought from them has met expectations.  In this case the problem was easy to fix (yeah model making skills) but that was an extra chunk of money out of my own pocket.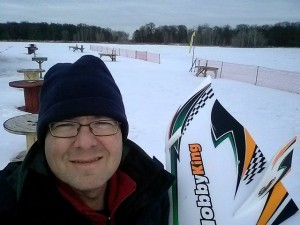 2015-01-12 13:42:53 -0600 - Written by curt