Sig Rascal C, 49″ Wing Span, HiMax Outrunner Upgrade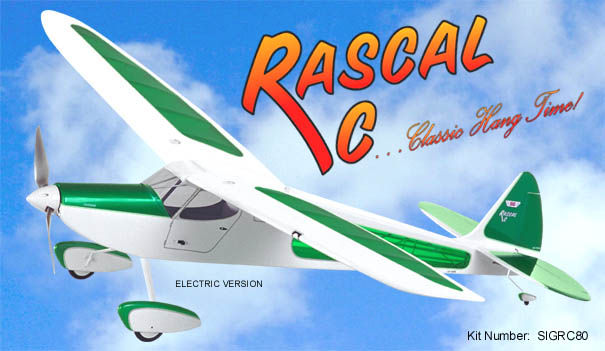 sigrc801
Motor: HiMax HC2816-0890 brushless outrunner
Speed Controller: ElectriFly SS-25 25A Silver Series ESC
Prop: APC 11×5.5
Battery: 3 Cell 11.1v 1800mAh lipoly: 45(?) minute flight times when throttled back for a leisurely cruise.
Color: Purple (nicknamed Tinky Winky) 🙂
August 3, 2007
Here are a couple pictures from today's flight out near Baldwin, WI. The winds were light, the atmosphere was really stable, perfect day for flying a light floater aircraft.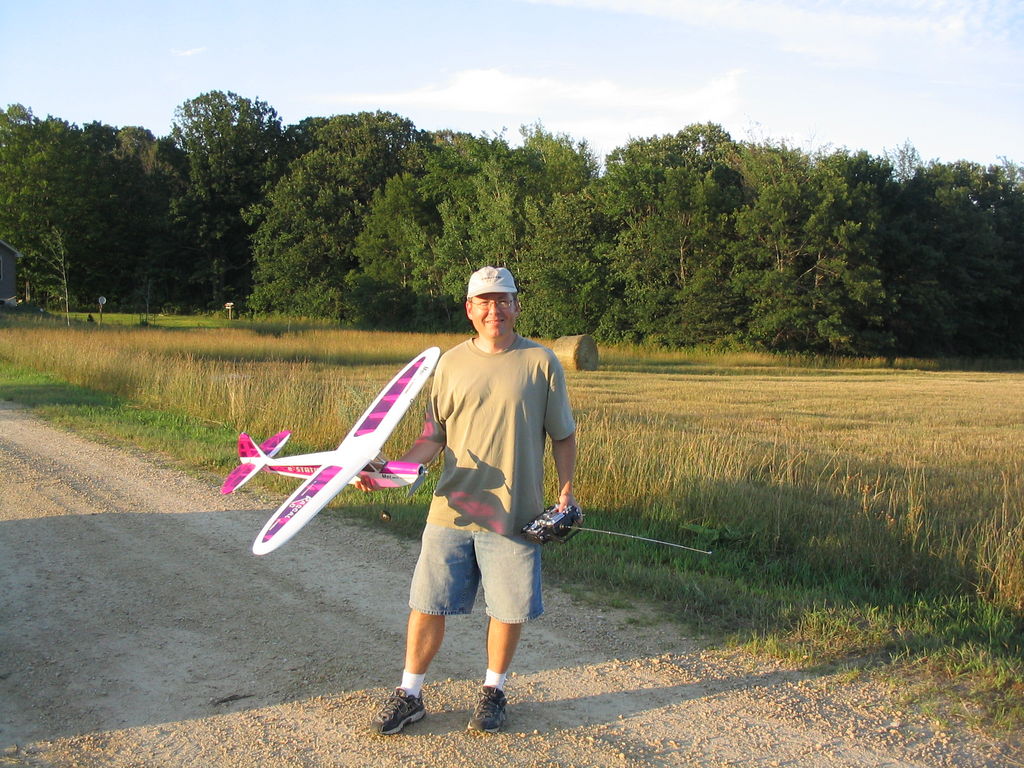 IMG_4713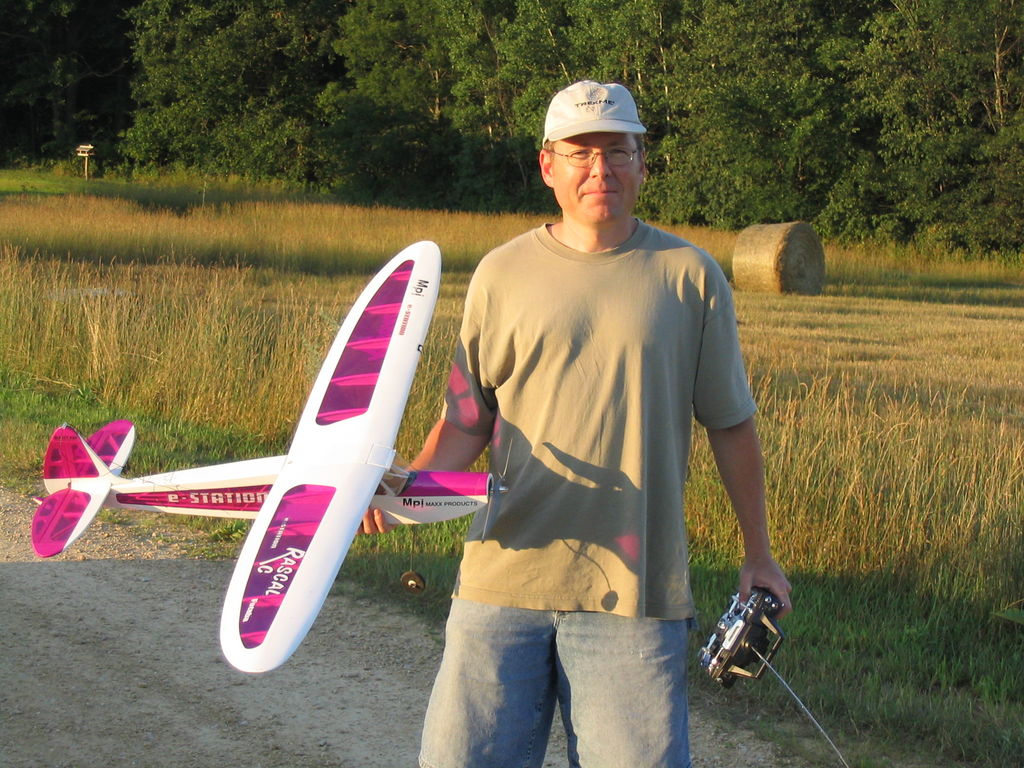 IMG_4714
May 25, 2007
I upgraded the tired old 7.4v battery to a fresh 11.1v (1800mAh) battery. With this new battery, the motor rocks! I can be airborne and go just about unlimited vertical until it's a speck. Then I can cut the motor (braking the prop) and coast down to earth again. I haven't tried to do any crazy aerobatics with my new found power … but it definitely gets up and goes!
January 8, 2007
I bought an Astroflight 109 lipoly charger and 12v power supply off rcuniverse and it arrived today. Now I can charge my own battery (battery singular at the moment.) Hooray!
December 20, 2006
Today we had calm winds and I was locked out of our driving sim so I headed home a bit early and spent the last 1/2 hour of daylight at the club flying field. I flew the Rascal C with a fully charged 7.4v (2S1P) 1500 mAh lipoly battery. Top RPM and climb rate was not spectacular with the big prop up front and the battery on the smallish side, but I got at least 15 minutes of flight time which thrilled me!
It took a while to climb to nose bleed altitudes, but it tooled around pretty reasonably. I was able to do loops, and some sort of very, very slow barrel role which I lost about 200′ of altitude by the time I got all the way around.
Slow fly by's are great, easy to setup the approach and spot the landing. Overall flying qualities are very smooth for such a small airplane. Control (even with just the rudder/elevator) is very precise and predictable. I think this one is winner for the ultimate in smooth, relaxing, slow flying (intermixed with some simple aerobatics.)
December 9, 2006
Last night I visited the local hobby shop and was talked into purchasing a HiMax HC2816-0890 brushless outrunner motor for my rascal along with an ElectriFly SS-25 brushless speed controller and an APC 11×5.5 prop.
I had to modify the motor mount for the new motor, but that wasn't too big of a deal. I guessed on down&right thrust and I think it came out ok.
I test flew the new setup off a partially charged 7.4v lipo battery and it had plenty of power to take off on it's own and climb and flew *very* nicely. The battery was short lived though so my fun didn't last too long, but I saw enough to know that this will be a very nice combination of power system + airplane.
I imagine that with a 3 cell lipo battery, the performance will be "stunning".
December 3, 2006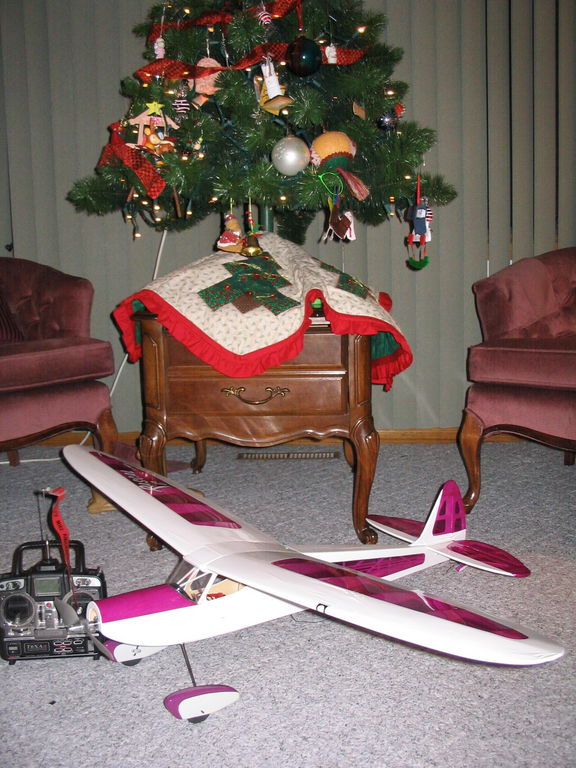 IMG_4104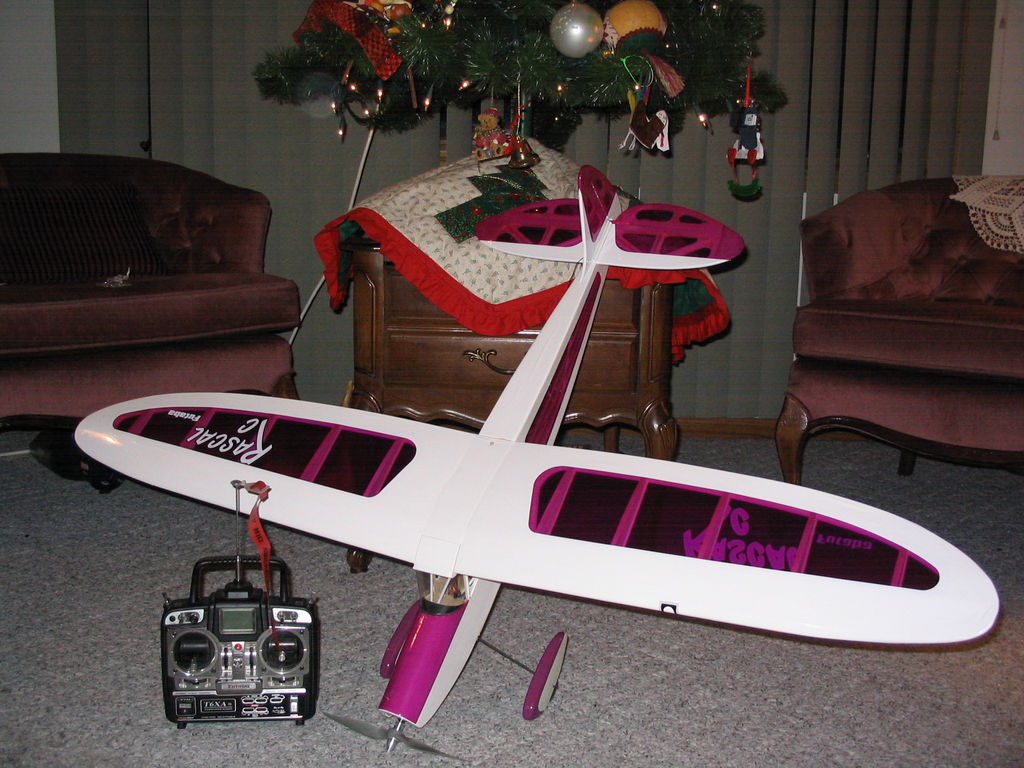 IMG_4105
I purchased this aircraft through R/C universe. It came with the airframe assembled, but new and never flown. None of the electronics were installed and none of them were new or even original.
I installed the servos (good) and the FS5 receiver (good). The included (used) speed 400 brushed motor and planetary gear box was pretty much shot. With the help of some machining skills of a coworker I got it running, but it generated a lot more noise than thrust.
My attempt at test flying it resulted in two very short flights. The second flight caught a side gust at low altitude, dug a wing tip and popped the wing off (breaking the nylon bolt.) No other damage could be found.
Need to upgrade the power system!
2007-08-03 12:42:00 -0500 - Written by curt