January 27, 2015
All shiny again!
January 27, 2015
Today my replacement plastic parts arrived … a new canopy and a new hull shield.  It wasn't too hard to pry the old shield off, and the new part is already to slap on.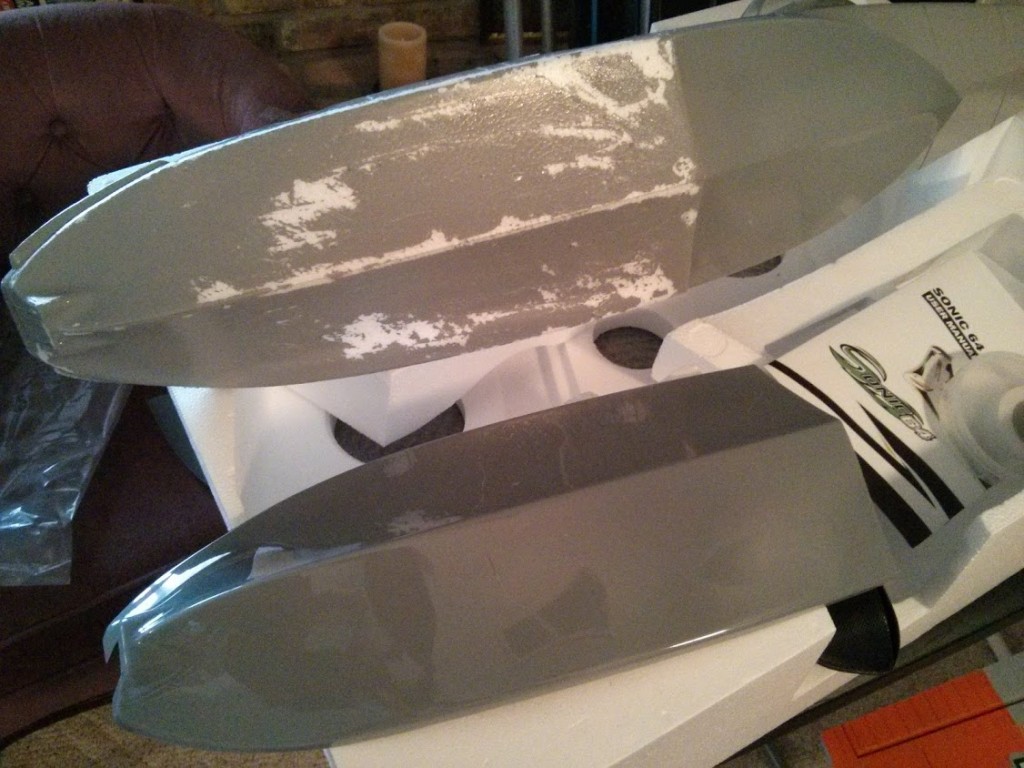 January 26, 2015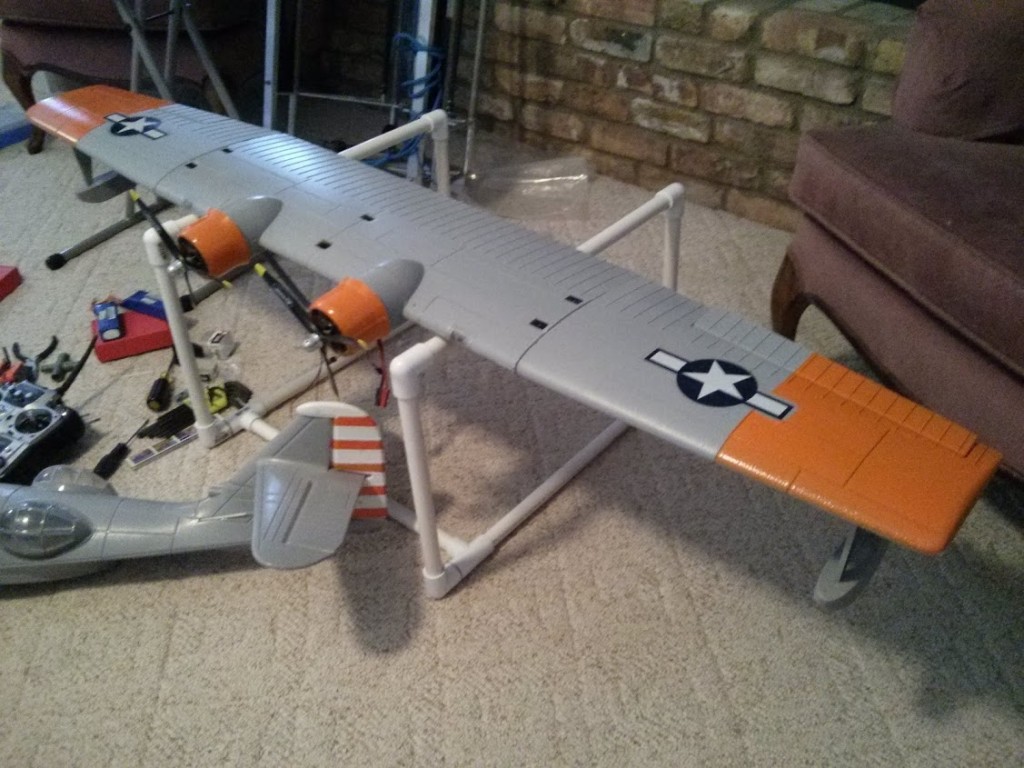 Here is a quick snapshot showing the new orange color on the engine cowls, the upper side wing tips, and also notice the tail stripes have been repainted orange (originally red.)  I'm just waiting on a replacement canopy which will hopefully arrive tomorrow and I should be able to completeley reassemble the model and re-maiden it after the crash.  Oh, I also have soldered up the led landing lights and will have those illuminated now just for fun.
January 23, 2015
Repair status update:  The crash repairs continue at a slow but steady rate; I am hoping the result will be better than ever!
Here is a picture showing the motor nacelle damage.  This has now been reglued and is as strong as ever.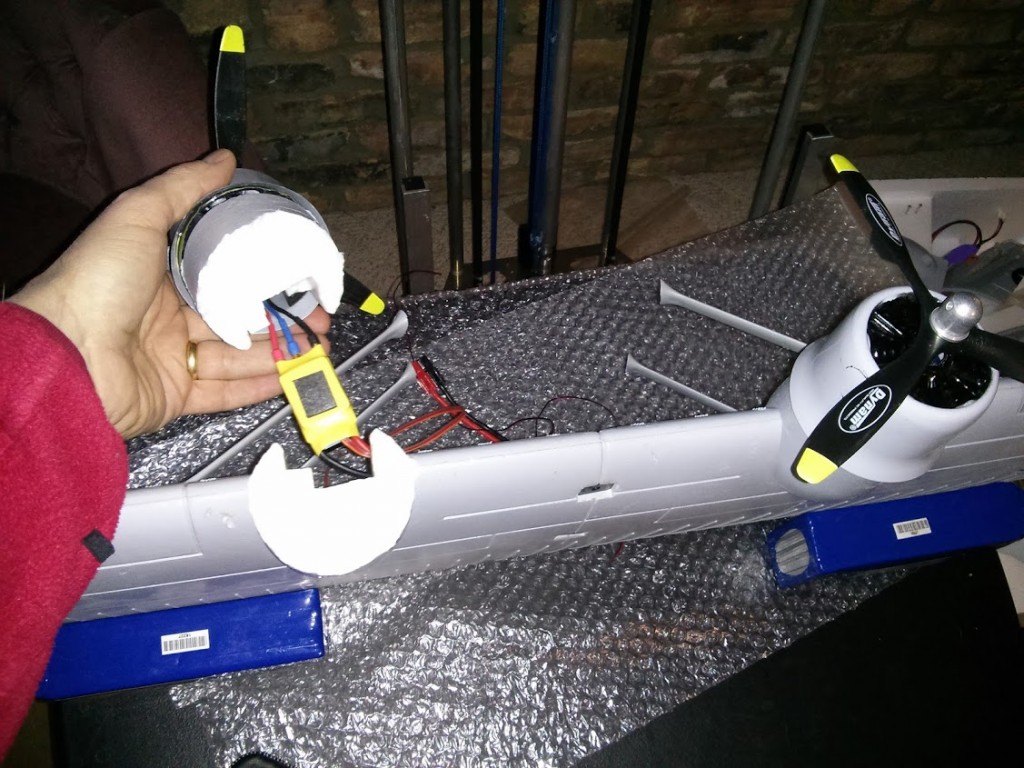 The next picture shows the repair process of the wing center pylon. This got shredded when the wing ripped off.  2 pieces have already been attached in this picture (with a battery on top to weight it down) and I am holding the final piece in it's approximate location.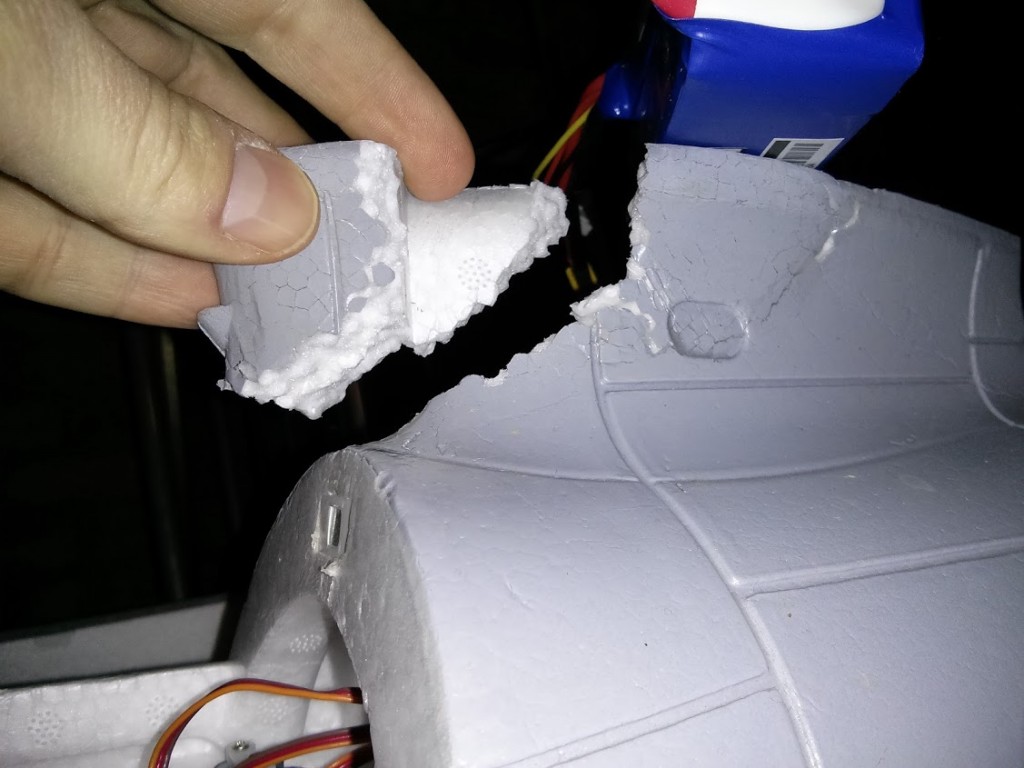 My repair plan includes adding some orange color to the engine nacelles, the top of the wing, and the tail for enhanced visibility.  In the next picture I have removed the cowls before painting them.
Now we see the cowls painted orange and reattached.  I think the final result will look nice if I can get some orange stripes on the wing tops and tail and do it cleanly.  In this next picture you can also see a view of the repaired wing center pylon (with some white filler that still needs to be painted.)  I found some flat gray spray primer at the hardware store that is a pretty close match to the factory paint, but it is cheap paint and covers poorly and requires a couple coats.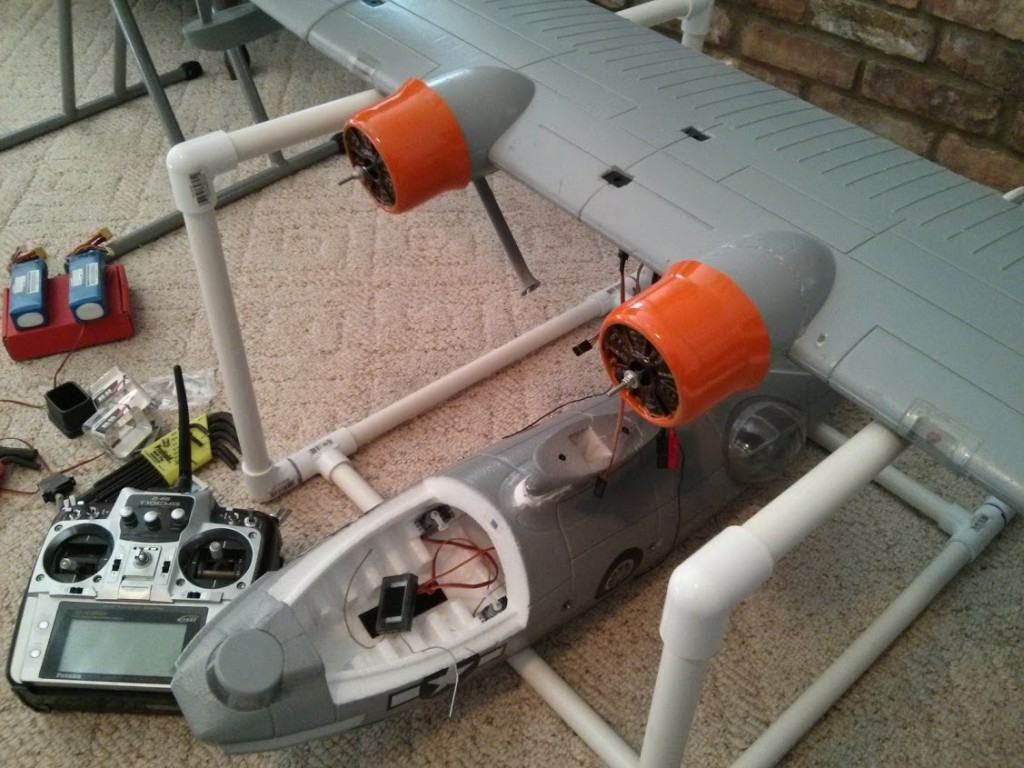 I have ordered a replacement canopy and replacement forward hull shield because these thin plastic parts were substantially damaged in the crash.  Grayson hobby had these parts in stock for $9.99.  If you are frustrated because nitroplanes.com is always out of stock of the airplane or part you want, check out grayson hobbies online.  They have a wide range of dynam stuff.
January 4, 2015
More detailed damage assessment:
The fuselage center wing mounting pylon is pretty shredded.  I'm hoping I can glue the parts back together to get the shape, and then do some reinforcement to get the necessary structural strength.
The right wing tip float broke off.  I'm strongly considering a mod to convert this model to retractable wing tip floats.  There are a few people on youtube that have done this and it turns out pretty cool.
The canopy got shattered into dozens of bits.  I need to either buy replacement plastic parts or carve a replacement from something.
The left engine nacelle got completely ripped off.  I think this will go back together again ok with enough surface area to be structurally sound.
The right front bottom of the nose took some damage I just now noticed.  That's probably something I can just glue back together and it will be ok.
I am thinking about getting out my can of orange spray paint and doing an outboard section of the top of the wing in high visibility orange (and maybe a couple other bits while I'm at it.)  Part of the reason for the crash was that I completely lost orientation on the model, and part of the reason for that (I think) was flying an all gray model on an overcast day.
January 3, 2015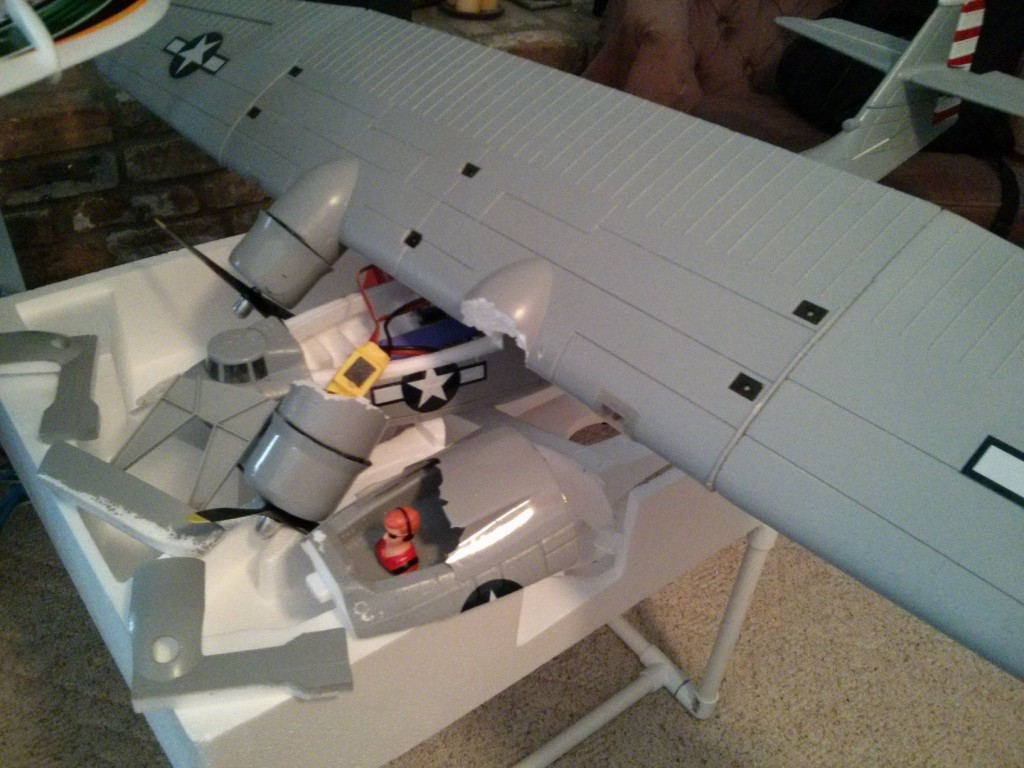 I went out to fly this off the lake this afternoon (frozen this time of year.)  I did one good flight, switched batteries and midway through the 2nd flight some winds started to come up a bit. Then I did the unthinkable … I lost my perspective/orientation with the model, executed one of those dumb thumb moves, and corkscrewed it right in.  It's been a long time since I've had a crash I couldn't blame on mechanical, electrical, or weather factors.  This one was just dumb thumbs and it was over before I could figure it out.  Now I'm really bummed.  Here is a picture of the wreckage I carted home.  Major damage includes the center wing pylon sheared off (foam/structural), the canopy shattered to bits, one of the wing tip floats broke off (plastic part broke), one of the engine nacelles broke off, and probably a few other odds and ends I'll find if I dig in further.
I think the engine nacelle and center wing pylon will be repairable.  I don't know what I will do about the canopy … maybe I can buy a replacement?  Same with the wing tip float mount?  I suppose I'll set it to the side for now.  Usually after a few days I start to get a bit curious and dig in and often a lot of the damage is quickly repairable.  Some of it might be a little harder though … guess I'll post a repair log if I think I'll be able to fix it up and fly it again.
June 21, 2013
This is the PBY from nitroplanes.com.  It is a relatively big airplane compared to most 'foamies' these days with a 57-7/8″ wing span.  It is also a twin and a seaplane.  I have nothing but good things to say about it.  For the cost and the effort to assemble it, it looks really great!  On the ground, in the water, in the air, sitting still, water taxiing, flying … it just looks great.
I purchased the PBY in January of 2012, so my first flights were off a snow covered lake on a bitter cold January afternoon.  I fly it with a 2200 mah 3 cell battery and that provides tons of flight time … probably pushing 20 minutes or more of relaxed flying.  Relaxed is the key word. There is nothing white knuckle about flying this airplane.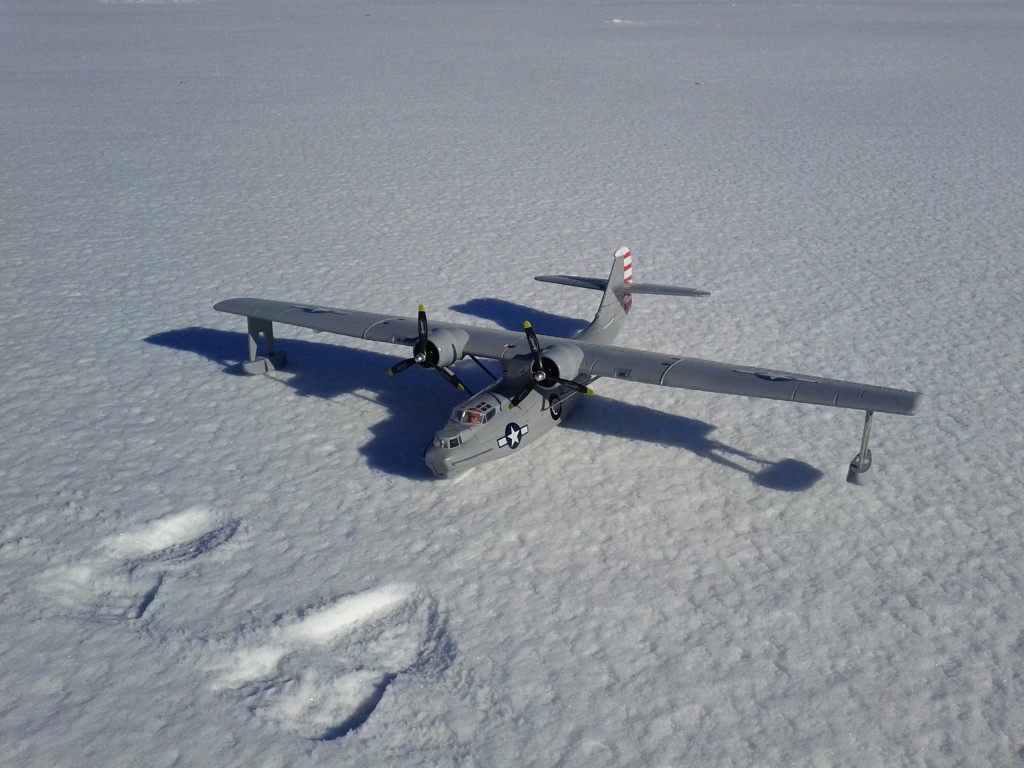 One of the fun things I did this day was to snow taxi downwind a bit, turn back around into the wind and give it about 3 notches of throttle.  It began to slide across the slick snow and pick up speed slowly.  Little by little it accelerated and before I thought it would be ready to fly, it slowly lifted off on it's own.  It passed in front of me about eye level, still climbing out at a very slow, very scale looking flight speed.  There are moments that are so perfect you always remember them, and in the context of flying RC airplanes, this was one of them.
She handles water operations just as effortlessly as flying off snow.   There is a little park with a dock at one corner of this lake in walking distance from my house.  It's a perfect place to go fly a park-flyer seaplane on a nice calm summer evening.  The twin engines, the big wing with slow flight characteristics, smooth water handling … it just makes for a calm, relaxing fun evening of flying.  At the park, the PBY always seems to attract an audience too.
If you are into aerobatics, the catalina can do all the basic loops, rolls, inverted flight, wing overs, etc.  It can, but for some reason, I'd rather watch it do slow, scale, near perfect fly-by's all evening long, mix in some touch and goes off the water … it's really pretty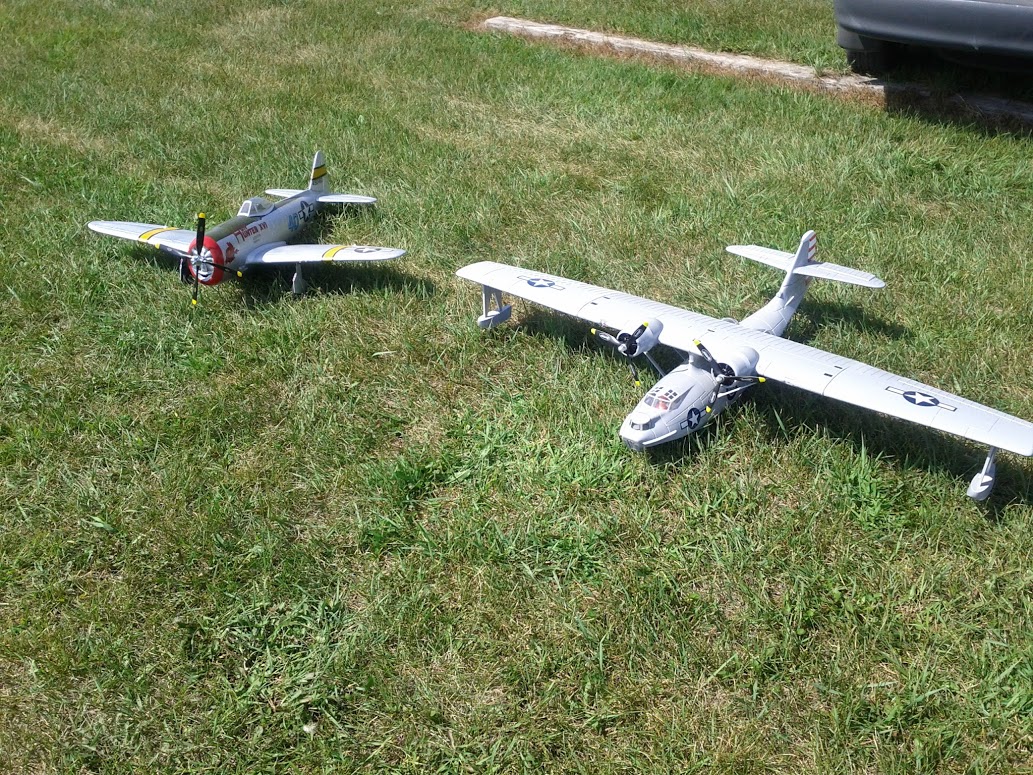 For whatever it's worth, the Catalina has plenty of power to do dry grass takeoffs from the RC club field.  I try to be extra careful keeping the wings level on landing so I don't catch one of those wing tip floats.  The ground is a little less forgiving than water.
Just to summarize.  This is a very scale looking airplane.  It has a big fat wing and is lightly wing loaded (just like the real thing.)   It can fly amazingly slow in the air.  If you just want to enjoy a beautiful scale looking/flying aircraft, this one is hard to beat!
2015-01-26 01:00:18 -0600 - Written by curt